Assisted Children: Individual Stories
Critical – Baby Fighting Brain Cancer Spreading Into His Spine
Collection Complete March 2016. Thanks to JJCCF's Financial Assistance and Advocacy Programs this family benefited from having access to basic human needs during a dreadful time.
---
Story:
Elijah, 1 Y/O Boy, Nicklaus Children's Hospital, Miami Children's Health System
Elijah has been struggling with brain cancer since he was 3 months old. As he fights for his life, this little angel is able to smile and blow kisses to everyone he meets. Elijah had a portion of his brain tumor successfully removed in 2014, but the remaining tumor is inoperable and has continued to spread. His single mother has remained by his side to comfort her only child while the chemo and radiation only slow the growth of the tumor. This battle has prevented his mother from working full time which has crippled the family financially.
Needs:
Elijah and his single mother need immediate help to pay for rent, food and gas.
---
Message from Hospital Social Worker, 8/21/15:
Elijah is a 14 month old male who was diagnosed with brain cancer at three months of age. From the beginning of Elijah's fight with brain cancer, it was determined that the entire tumor would never be removed surgically. The inoperable portion of his tumor is growing on his brain stem. Elijah had his first surgery to remove a portion of the tumor in October 2014. He began chemotherapy a couple of weeks after his brain surgery in November 2014. Early into his treatment it was discovered that the baby was not swallowing correctly. Shortly after beginning chemotherapy, the patient had another surgery to place a G-Tube for feeds. Nearing the completion of the chemo, in March 2015, he was given another MRI. This time the images showed that the tumor had grown and the Elijah began experiencing pain due to the tumor's growth. This all happened in April 2015. At this point, the doctor explained to Elijah's mom that he would be placed on palliative care. He explained that the goal of Elijah's care was to have more good days at home rather than days spent in the hospital. In late April, Elijah began radiation therapy to shrink the tumor enough to buy him some time. The radiation worked, for a while. This week, on 8/19/2015, Elijah had another MRI that showed the tumor had spread to his spine. It is unknown how many days, weeks or months that Elijah has left. Please consider helping the family as they begin their final chapter of life with Elijah.
Sincerely,
Amanda K. Treadwell, MS
Pediatric Social Worker
Hematology/Oncology

Click on the PDF icon to view original letter from the Hospital Social Worker
---
Plea from Mother, 9/08/15:
My name is Doriann. I want to tell you about my son Elijah. He is such a happy baby! He knows how to blow a kisses and wave good bye. He says "MaMa" and if you say "Leche: he spits his pacifier out and looks at you to feed him. He also responds to questions by shaking his head "no" and sometimes "yes."
I am a single mother. I guess my life has not really been easy, but if life has taught anything it is to keep fighting. When I was young, I came to the United States from Puerto Rico. Not long after we arrived, my father was arrested and put it prison. This left my mother to raise me and my siblings all by herself. I watched my mom work minimum wage jobs to make sure we had enough food and a roof over our heads.
When I got older, I decided that my mother had struggled enough. It was so bad that during my senior year of high school, at the age of 17, I decided to drop out and get a job. I've always kind of regretted leaving school, but I've never regretted helping my family. Especially now, because they have really been a strength to me. At 17, I began working in the Auto Dealer Industry. I found I was pretty good at it and I quickly earned a spot on the management team. I was managing an Auto Dealer when my son was diagnosed in October 2014. Once the whirlwind settled down a little bit, I found myself in the hospital all of the time. I eventually had to quit my job and focus on my son. The baby and I have been surviving on a monthly payment of $449 from social security benefits and $200 per month food stamp allowance. When I have free time, I take pedicure appointments to make a little extra money. I am loyal to my family, especially to my son, I will do whatever it takes to make sure he has what he needs. It's been so hard lately, with the new news about his diagnosis. I find I don't have the energy that I did before. Please, if you can find it in your heart to help me, I would really appreciate it.
Thank you and God Bless,
Doriann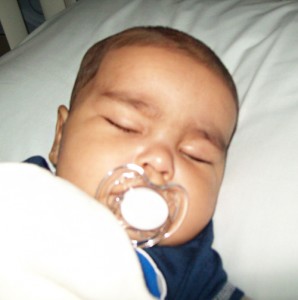 Elijah