Assisted Children: Individual Stories
Miami Heat Fan Fighting Relapse Leukemia Endures Life-Saving Transplant While Suffering from Paralysis
Collection Complete December 2014. Thanks to JJCCF's Financial Assistance, Advocacy and Share the Joy Programs this family benefited from having access to basic human needs during a dreadful time. Share the Joy ceremony: on 11/25/13 Daoud's Fine Jewelry donated $2,000 to JJCCF-100% benefited D'Quan.
---
Story:
D'Quan, 12 Y/O, Miami Children's Hospital
In September of 2012, D'Quan was an active 11 year old boy enjoying basketball and other sports in the Bahamas when his routine visit to a South Florida Hospital revealed that he had Leukemia.  He then suffered a shocking partial paralysis of the lower extremities after a related medical procedure the following week. D'Quan continued with the chemotherapy that led to his remission in November of 2012 and was able to return home to the Bahamas in February of 2013 but his paralysis persisted … leading to his inability to walk.
In July 2013, D'Quan had to be airlifted from the Bahamas to Miami and rushed by EMS personal to Miami Children's Hospital for re-evaluation due to a relapse. Sadly, D'Quan now needed a bone marrow transplant and the paralysis had not improved.  D'Quan received the transplant in January of this year and has been hospitalized most of the time since due to complications.
D'Quan's Father has remained by his side since the beginning and also has become D'Quan's full time care provider due to his overall needs. This transition has not allowed his father to work which has driven them into financial disaster. D'Quan and his family remain hopeful regarding his health recovery but they desperately seek compassion with respect to their financial crisis.
Needs:
D'Quan and his family need immediate help to pay for medications, food, clothes, transportation and lodging expenses.
---
Message from Hospital Social Worker, 4/8/14:
This letter is on behalf of patient: D'Quan Brown, who is a twelve year old boy, diagnosed with Pre-B Acute Lymphoblastic Leukemia. The Brown family is a family of five, who is originally from Nassau, Bahamas. The patient has received medical treatment at Miami Children's hospital for several years since his diagnosis in 2012, and relapse in 2013. The patient also recently underwent a Bone Marrow Transplant at Miami Children's Hospital. It has been extremely difficult for the family to try to make ends meet since the time of diagnosis. Mr. Brown has accompanied the patient during most of his hospitalization, and Mrs. Brown takes care of their children.  Due to the parent's father being unable to work, they need assistance in trying to pay for their basic bills, such as utilities, medical bills, car expenses and lodging.  I ask that you please assist this family with any financial assistance, due to the patient's diagnosis.  I thank you in advance.
Sincerely,
Evelyn Gonzalez, MSW,
Pediatric Social Worker

Click on the PDF icon to view original letter from the Hospital Social Worker
---
Plea from Father, 4/24/14:
Hi. My name is DeQuido Brown, I'm D'Quan's dad, a married father of three beautiful kids.  My family resides in Nassau, Bahamas.  We brought D'Quan to South Florida in September 2012 for what we thought would be a quick and simple doctor's visit, but the lab results detected that he had Leukemia, which was confirmed a few days later at Joe DiMaggio Children's Hospital via a bone marrow biopsy.  He then suffered partial paralysis of the lower extremities after a procedure on the following week.  As a result of both catastrophes, one requiring heavy lifting, I was forced to resolve my self-employment business contracts in the Bahamas to remain in South Florida in order to attend to D'Quan's needs.  D'Quan went into remission in November 2012 and we returned to the Bahamas in February 2013.
Sadly, D'Quan became very ill and suffered a relapse in July 2013, he had to be airlifted to Miami, Florida.  Upon arrival EMS personnel transported him to Miami Children's Hospital for further evaluation and treatment.  He has been hospitalized at MCH on numerous occasions and hasn't been well enough to return home to the Bahamas permanently.  D'Quan recently received a Bone Marrow Transplant at MCH and he has since been discharged from the hospital, but he has weekly BMT follow up visits at the hospital.
I'm D'Quan's primary caretaker and I've been here with him throughout this entire time, but I 'm also financially exhausted, without any form of income to pay our current bills and expenses.  I am so grateful that JJCCF has stepped up to assist my family on two separate occasions in the first quarter of last year as D'Quan's was a "Share the Joy" recipient, and I'm humbly requesting assistance once more and for D'Quan to be accepted into the Advocacy Program.  Assistance is needed for the purchases of medicine, food, clothes, diapers, fuel, car insurance and lodging costs. Your kind assistance will be greatly appreciated!
DeQuido Brown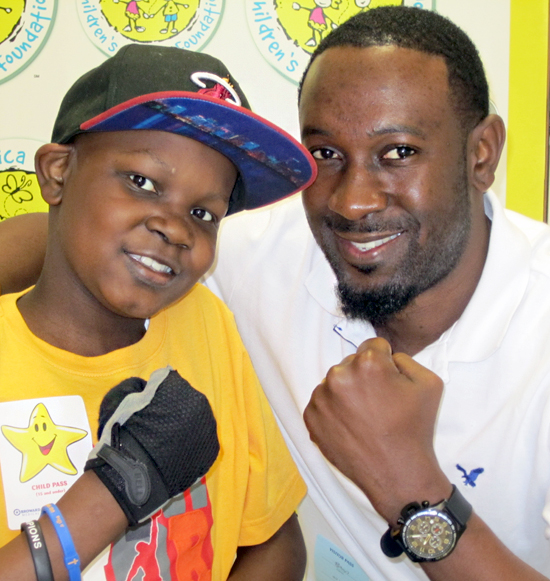 D'Quan and DeQuido at JJCCF office at Broward Health Medical Center