Assisted Children: Individual Stories
Child Fights Fierce Leukemia Battle as Mom Struggles to Provide for Family of 4, $0 Income
Collection Complete December 2014. Thanks to JJCCF's Financial Assistance and Advocacy Programs this family benefited from having access to basic human needs during a dreadful time. View press Holiday story Sun-Sentinel 12/21/14
---
Story:
D'mani, 7 Y/O, Broward Health Medical Center
D'mani remains a happy 7 year old boy with a heart-warming smile despite his difficult battle with Leukemia and other hardships.  D'mani, his mother and his two siblings moved to South Florida from the U.S. Virgin Islands in August 2013 seeking a better life. One week after arriving in the U.S., D'mani's mother took him to the doctor to get a physical in order to enroll him into school.  To her horror, D'mani's mother soon learned that her child had been diagnosed with a life threating cancer.  Since then, D'mani has been in and out of the hospital and unable attend school due to his fragile immune system. D'mani's mother is unable to work due to D'mani's frequent hospitalizations and chemotherapy treatment requirements expected to continue for another 2 years. D'mani, his mother and two siblings are unable to afford a home of their own so they are forced to all share a single bed in her sister's home which initially was expected to be a temporary arrangement.  View press Holiday story/ video, Sun-Sentinel 12/21/14
Needs:
D'mani and his family need immediate help to pay for food, gas, clothing and a down payment for their own apartment.
---
Message from Hospital Social Worker, 2/3/14:
D'mani Felix is a seven year-old pediatric oncology patient at Chris Evert Children's Hospital at Broward Health. He is diagnosed with Acute Lymphoblastic Leukemia (ALL). D'mani, his mother, and his two siblings moved to South Florida from the U.S. Virgin Islands in August 2013. D'mani's family moved to Florida seeking new opportunities, after his parents were laid off from successful careers due to company closure. One week after arriving, D'mani's mother was making arrangements for him to enter school by getting his school physical. At that time, he was recommended to be further evaluated for symptoms that ultimately were diagnosed as cancer.
D'mani is undergoing a course of treatment that includes chemotherapy on a weekly basis at this time. His outpatient treatment is expected to last three years, and he is hospitalized as needed. D'mani was recently hospitalized for several weeks due to infections that could have been life-threatening, as he is immune compromised. During the several months that D'mani has been a patient at Chris Evert Children's Hospital, his mother has consistently brought him for treatment. She always has a positive outlook and puts on a happy face, although she is struggling internally with the way her son's cancer has changed her life.
Once the family moved to South Florida, they began residing in one room in the home of D'mani's aunt which was meant to be a temporary arrangement. D'mani's mother has been unable to seek employment since her son's diagnosis, as she needs to be available for his many appointments and hospitalizations. At this time, D'mani is not able to enter public school due to the risk of infection, and participates in the hospital homebound program. D'mani's family wants to be able to live in their own home and not rely on family members, but this has been a challenge due to the lack of income. D'mani's mother pays a small amount of rent to her sister, which has made it difficult to save to rent their own apartment or home. The children's father has remained residing in the U.S. Virgin Islands, but is unable to join his family until they have their own place of residence. This family needs support to make a life for themselves under these new circumstances.
Sincerely,
Melissa Stachowiak, LCSW
Social Worker

Click on the PDF icon to view original letter from the Hospital Social Worker
---
Plea from Mother, 4/11/14:
On August 19th 2013 my life changed forever. I got a crippling wound to my heart when I was informed that my son D'Mani was diagnosed with Leukemia ALL.  My life as I knew it changed drastically, I felt as if I was existing instead of living & from that point on until now our day to day living has been challenging.
D'Mani is my middle child the second of three. He loves to play, read, & do everything a typical 7 yr old boy does. We moved to Florida in hopes of a better life but before we could begin we were faced with this challenge a week after arriving. D'Mani has to be hospitalized frequently & is also going through rounds of chemo therapy almost weekly. He gets sick frequently and is unable to attend school or be outside in public due to his compromised immune system. This has lead me to be his full time caretaker and unable to gain employment. I have two other kids which I have to provide for so it's a very difficult time for us financially right now. We are all temporarily staying in a tiny bedroom at my sister's house and desperately needs assistance to pay for food, gas, and basic living expenses. D'Mani desperately wants us to get our own place to live at because he is uncomfortable sharing one bed with myself and his other siblings. His greatest wish is to have his own room as he once had before moving here.
Desra Felix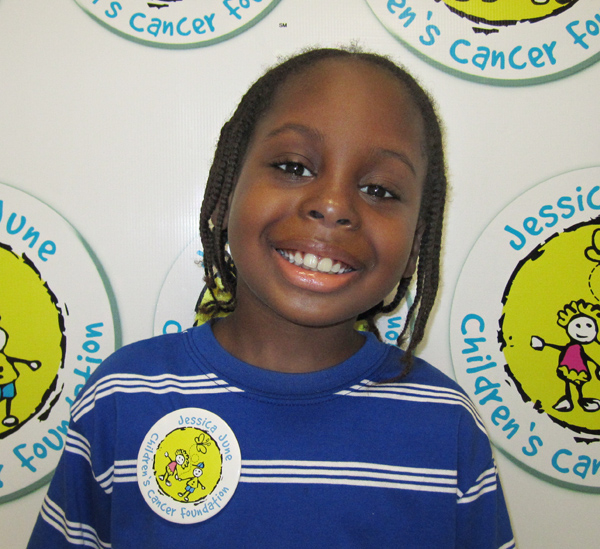 D'mani at Broward Health Medical Center