Assisted Children: Individual Stories
Boy with Brain Cancer/Autism In Need After Mother Dies

Collection Complete May 2019.  Thanks to generous contributors, JJCCF's Financial Assistance / Advocacy Programs and collaborative support from partner charities,  this family benefited from having access to basic human needs during a dreadful time.
---
Story:
David, 4-years-old, Nicklaus Children's Hospital
Maria has been given a double dose of heartache. After the death of her adult daughter 2 years ago, Maria and her husband were left to raise their grandson, 4-year-old David. Caring for David has been difficult, as he has been fighting brain cancer affecting his eyesight and also has autism. He has been undergoing chemotherapy for the past year to prevent further damage to his eyesight. Life has become suddenly challenging as they struggle financially while caring for David.
Needs:
David and his grandparents need help with basic needs such as rent, food and school related expenses. Any financial assistance would be greatly appreciated.
---
Letter from Hospital Social Worker:
Dear Jessica June Children's Cancer Foundation,
David Anaya is a 4 year old pediatric oncology patient at Nicklaus Children's Hospital.  David is diagnosed with low grade optic pathway glioma, autism spectrum disorder and neurofibromatosis Type 1. David is seen by multiple specialists and his grandmother is his primary caretaker often transporting him to varied medical appointments. David currently resides with his grandparents and the family would greatly benefit from any financial support from the advocacy program during this difficult time.
Jessica June Foundation continues to provide assistance to many of our families and we are grateful for this. Any assistance for David and his family would ease the financial burden for this family at this time.
Sincerely,
Stephanie McGuiness, LCSW
Pediatric Social Worker

Click on the PDF icon to view original letter from the Hospital Social Worker
---
Plea from Grandmother/Legal Guardian:
Hello,
Two (2) years ago my daughter passed away leaving behind her 4 year old son David who has been under my care ever since. He has been diagnosed with Brain Cancer and autism. As a result, he has an inoperable optical nerve tumor and has been under chemotherapy for (1) year in order to prevent any further damage to his eyesight. It has been very difficult for the whole family and thanks to wonderful foundations like JJCCF whom noble hearts and noble actions help families like ours with your contributions. We appreciate any help that can be provided, as it will be of great value for kids like my grandson.
Thank you and God bless,
Maria (Grandmother/Legal Guardian)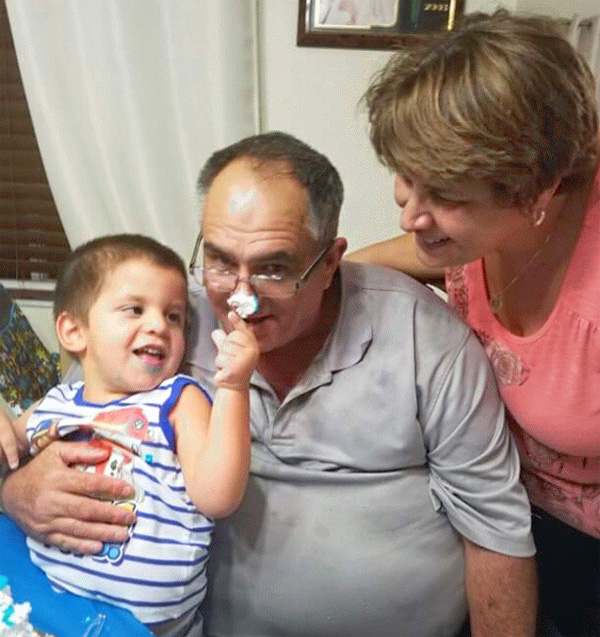 David with grandparents