Advocacy Program: Children Urgent Needs
Single Mom Struggling After 3 Y/O Son Loses Both Eyes to Cancer
JJCCF is accepting tax-deductible donations in honor of Denver. If you wish to share your compassionate support, 100% of your donation will go towards assisting Denver and his family with their basic necessities. JJCCF does not charge for its services or take a percentage of funds raised.
Online:
Donate Indicate Dedication / In Honor of Denver
Mail:
Kindly make your check payable to "JJCCF" and write "For Denver" in the memo
Address:
Jessica June Children's Cancer Foundation
1 Las Olas Circle, Suite 209
Ft. Lauderdale, FL 33316
---
Story:
Denver, 3-year-old, Holtz Children's Hospital at Jackson Memorial Hospital
Denver has been fighting hard since birth.  Born with a rare chromosome disorder, things have not been easy for this toddler and his family. Retinoblastoma has forced doctors to remove both of his eyes.  In spite of this life-changing surgery, Denver's cancer is still present and has spread throughout his head. Denver's single mother has not been able to work given her son's medical condition. Mom had plans to start working, but recently found out Denver's cancer had metastasized. She also has 2 young daughters and is struggling to pay her bills and provide for her family.
Needs:
Denver and his family need help with rent, electric, food and other basic necessities.
---
Letter from Hospital Social Worker:
JJCCF Advocacy Program
Denver is a 3 year old boy with a very complex medical history, consisting of Chromosome 13Q deletion since birth, rendering him with such issues of Failure to Thrive and Developmental Delays.  On April 29, 2016, Denver was diagnosed with Retinoblastoma of both eyes. He has undergone both systemic as well as intra-arterial chemotherapy at Memorial Sloan-Kettering Hospital in NY.  Both eyes needed to be removed, however, in spite of all these efforts, there is now recent evidence of widespread metastatic disease all over Denver's head. Denver is presently hospitalized in our medical center.  He is receiving further chemotherapy, considered palliative for most; however, doctors are hopeful that chemo may shrink the tumors with the hope of having them surgically removed in the future. Denver's parents are well aware of his current condition and are in agreement with the proposed treatment plan. The JJCFF has, at one point, assisted Denver's mom in the past. As Denver's social worker, I ask he be considered for enrollment in the Advocacy program. Mom is not able to work.  She was hoping to initiate employment after moving back to South Florida from New York.  However, as stated above, Denver's condition deteriorated.  Mom's main concern at this time is paying her monthly rent, having recently moved into a 2 bedroom apartment with her two other children. Denver's father does not live in the same household and, although now more involved in his life, is not a reliable source of financial support to Denver's mom. I am attaching the Rental Agreement with this letter. Any assistance is greatly appreciated…Thank you!
Rolando Tabares, LCSW, CCM
Holtz Children's Hospital

Click on the PDF icon to view original letter from the Hospital Social Worker
---
Plea from Denver's Mother:
My name is Taren-Rae Lewis and I have a 3 year old son named Denver who was born with a very rare chromosome disorder… since Denver was born I haven't been able to work… I was told about two years ago that he had bilateral retinoblastoma since then he has lost both his eyes. I was then told he was cancer free but now I found out he has tumors all over his brain marrow, etc…. being a single mom with three kids is hard because I am always in the hospital with Denver and can't work and really don't know how I will pay my rent and bills… we need all the help we can get and we appreciate everything… thanks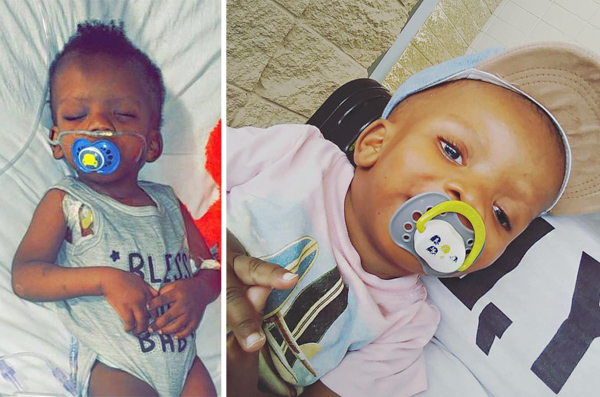 Denver