Advocacy Program: Children Urgent Needs (posted 2/5/19)
Mother pleas for help after 13-year-old daughter is diagnosed with Leukemia followed by a stroke
JJCCF is accepting donations in honor of Carmen. If you wish to share your compassionate support, 100% of your donation will go towards assisting Carmen and her family with their basic necessities. JJCCF does not charge for its services or take a percentage of funds raised.
Online:
Donate Indicate Dedication / In Honor of Carmen
Mail:
Kindly make your check payable to "JJCCF" and write "For Carmen" in the memo
Address:
Jessica June Children's Cancer Foundation
1 Las Olas Circle, Suite 209
Ft. Lauderdale, FL 33316
---
Story:
Carmen, 13-years-old,The Children's Hospital at Palms West
Going through chemo treatments for her Leukemia has certainly been life-changing for 13-year-old Carmen, but then she suffered a stroke and now she also needs intense physical therapy to regain her strength. With her elderly father on disability, Carmen's mother is solely responsible for driving her daughter to the hospital 3-5 days per week for chemotherapy and physical therapy, close to 300 miles per week. This makes it impossible for Carmen's mother to work at this time.
Needs:
Carmen's parents need assistance with monthly utility bills and the costs associated with traveling 180-300 miles each week for Carmen's chemo treatments and physical therapy.
---
Letter from Social Worker:
I would like to recommend Carmen Baker's family for your advocacy Program. Carmen is a 13-year-old with known diagnosis of B cell Acute Lymphoblastic Leukemia (ALL).
Carmen is currently in active treatment and has had a very difficult time of it having suffered a stroke related to her treatment just a few months ago. Currently Carmen is undergoing not only treatment for her cancer but intensive physical therapy to get back her strength she lost due to her stroke.  Needless to say, this all has caused additional stress for both Carmen and her family. Now they need to travel back and forth 60 miles not only for treatment for Carmen's cancer but also need to travel 3 times a week for physical therapy which means Carmen's mother is unable to work as she needs to bring Carmen back and forth for treatment and physical therapy on average about 3-5 times a week since Carmen's dad is much older and on disability. Any assistance you can provide to help Carmen's family financially would be greatly appreciated. Please do not hesitate to contact me if you should need any further information.
Yours truly,
Michelle O'Boyle, RN, CPON
Pediatric Oncology Patient Care Navigator
Kids Cancer Foundation

Click on the PDF icon to view original letter from the Hospital Social Worker
---
Plea from Mother:
My daughter, Carmen is 13 years old and has Acute Lymphoblastic Leukemia.  Carmen recently had a stroke (as a result of her cancer treatment) so now she must not only receive treatment for her cancer but she also must receive physical therapy; which means I need to travel up to the hospital 3-5 days a week for Carmen to receive her chemotherapy and her physical therapy. This has been very difficult for our family because my husband, who is older and on disability, is not able to take Carmen for her treatments. This means that I must take Carmen for treatment and makes it impossible for me to work at this time. Our family desperately needs assistance with our monthly bills and the additional expense of traveling an additional 180-300 miles a week for treatment. Any financial assistance you can provide our family would be greatly appreciated.
Thank you,
Juanita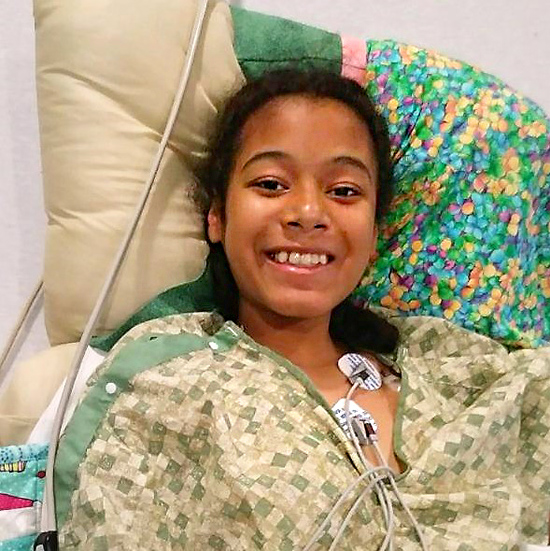 Carmen