Assisted Children: Individual Stories
17 Y/O Teen Fighting Osteosarcoma While Parents Grapple with the Loss of All Income (RIP)

Collection Complete June 2014. Thanks to JJCCF's Financial Assistance and Advocacy Programs this family benefited from having access to basic human needs during a dreadful time.
---
Story:
Brittany, 17 Y/O, Alex's Place/Jackson Memorial Hospital
Brittany was enjoying a normal teenage life until she was diagnosed with Osteosarcoma in March of 2013.  Brittany was removed from her school and her family relocated from the Bahamas to Miami to begin her treatment that eventually resulted in having her arm surgically removed in September of 2013. The family continues to live at the Ronald McDonald House in Miami as Brittany continues her treatment and the parents no longer have any income. The family has been traumatized yet Brittany manages to maintain a positive attitude with a gentle smile.
Needs:
Brittany and her family need immediate help to pay for her food and clothing.
---
Message from Hospital Social Worker, 1/13/14:
I am writing this letter in order to request for additional financial assistance for Brittany Burrows, DOB 08/18/1996, and her family.  Brittany first came to our clinic around May of 2013 with a diagnosis of Osteosarcoma around the shoulder area.  Brittany is originally form the Bahamas and her family stated that they traveled to Miami, Florida in order to seek better treatment for Brittany's illness.  Brittany's healthcare is currently being funded by the International Kids Foundation Wonderfund.  The funds that were used in order for Brittany and her family to get to the United States were raised by her school in the Bahamas.  However, these funds, as well as the International Kids Foundation are specifically for the travel expense and medical treatment for Brittany.  The money that was raised and the foundation that is funding her medical treatment does not assist her with any other expenses during her stay such as shelter, food, and clothing, the basics that one needs in order to get through day to day.  Brittany's treatment plan is to continue receiving care from us for a few more months.  Therefore, this means for Brittany and her family that they must continue their stay here without much of an income, as they stated it is difficult to maintain steady work when their primary focus is to care for Brittany here in the United States.
We are humbly requesting that Brittany's case be considered for the Advocacy Program through the Jessica June Children's Cancer Foundation.  Brittany and her family were so thankful when they received financial assistance from the Jessica June Children's Cancer Foundation initially.  And, they stated that they were very impressed with how much emotional support this foundation provided them.
If there are any questions regarding the above, please feel free to contact me at 305-243-0288.
Warm Regards,
Ida Rodriguez, LSW
Outpatient Pediatric Clinical Social Worker
University of Miami / Sylvester Comprehensive Cancer Center / alex's place

Click on the PDF icon to view original letter from the Hospital Social Worker
---
Plea from Mother, 1/14/14:
My name is Sarah Burrows and I am Brittany's mom.  I am writing you this letter to ask if you could help Brittany again with food and clothing.  I am here in the United States with her now and will remain with her for the rest of her stay so I don't have any income coming in.  Thank you very much for your help.
Thank you.
Sarah Burrows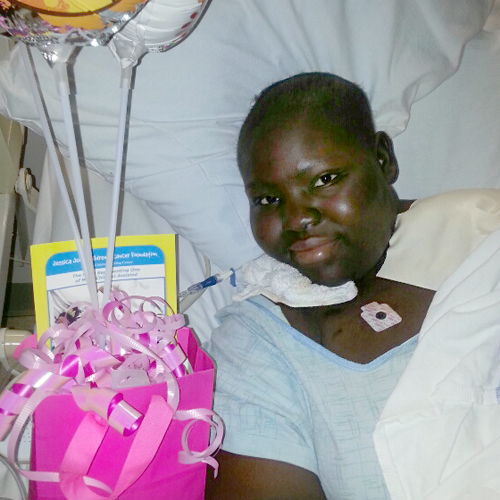 Brittany Burrows at Alex's Place – Jackson Memorial Hospital