Assisted Children:  Individual Stories
Family Struggles with Relapse of 2 Y/O Son Fighting Neuroblastome (painful cancerous tumors)
Collection Complete June 2013. Thanks to JJCCF's Financial Assistance and Advocacy programs this family benefited from having access to basic human needs during a dreadful time.
Story:
---
Beau, 2 Y/O, Miami Children's Hospital
Beau is a 2 Y/O that has been struggling with Neuroblastoma (cancerous tumors) for over 17 months (diagnosed February 2011). After intense chemotherapy, radiation treatment, and a bone marrow transplant, in November of 2011 Beau's parents were informed that their nightmare had come to an end and that Beau was free of tumors. Four months later in April 2012, Beau began having seizers and remains hospitalized to continue his therapy.  The family has been devastated with their child's relapse.
Needs:
Beau's family will need immediate help to pay their rent, food and transportation (taxi to and from treatment centers).
---
Message from Hospital Social Worker, 7/2/12:
Re: Beau Shields
Thank you for all the help you've provided to Beau and his family in the past.  As you know Beau was originally diagnosed with Neuroblastoma, received a bone marrow transplant and relapsed. He is presently hospitalized and his mother is requesting financial assistance with lodging at Ronald McDonald House, meals and with fees for making her immigration status current.
Therefore, I am asking that Beau and his family be considered for financial assistance from the Advocacy Group.
Thank you for your help once again.
Sincerely,
Beverly J. Gibson, MSW, Pediatric Social Worker
---
Plea from Mother, 07/12/12:
My Name is Colleen Shields, mother of Beau Daniel Shields. He was diagnosed with Neuroblastoma stage (4s) on February 16, 2011 at 5 months old; since then our life has been changed.
Beau became sick and we took him to the doctor, but he was getting worse, not sleeping or eating he was just crying, I had sleepless nights. On February 6, I noticed his eye started bulging I took him to the doctor and she told me it is because he is not sleeping and constantly crying. I did not take that. I took a picture and showed it to some coworkers who advised me to get a second opinion which I did.  First the doctor was saying it was his thyroid but the test came back negative. So the doctor got on his phone and he called Miami Children's Hospital oncology department. They told him to do a CT scan and that revealed Beau had tumors that were pushing the eyes forward and also in his liver. We were airlifted to Miami Children's from Cayman Islands the next day on February 15, 2011.
Beau spent 10 months in Miami receiving 6 rounds of chemotherapy and 12 days of radiation and a bone marrow transplant. Beau went home in November clean, but had seizures on April 13, 2012 and was airlifted again. This put our life in deeper debt.
My husband and I have two other kids and I am not working. We have bills backed up and it is difficult for my husband to pay all the bills back home and then send money to provide for Beau and myself here in Miami. We need help with rent, food and transportation (Taxi) to and from the hospital.
I can be reached at (786) 398-0085 any time.
Regards, Colleen Shields
Testimonial from Mother, 06/25/12:
The Jessica June Children's Cancer Foundation (JJCCF) has been a great help to us by providing gift vouchers for food and assisting with where I am staying. I am very grateful. They are God sent.
Donors, you are kind, respectful and generous. Please continue to give so that this foundation can continue to help people like us. Colleen Shields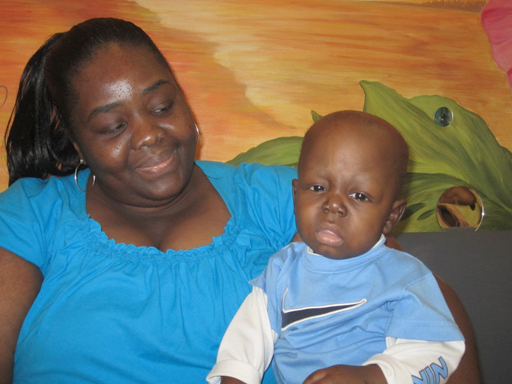 Beau (1 Y/O at time of photo) with mother