Assisted Children: Individual Stories
2 Y/O with Stage 4 Brain Cancer leaves family of 7 praying for a miracle
Collection Complete March 2019. Thanks to generous contributors, JJCCF's Financial Assistance/Advocacy Programs and collaborative support from partner charities, this family benefited from having access to basic hunan needs during a dreadful time.
---
Story:
Avier, 2-years-old, Salah Foundation Children's Hospital at Broward Health Medical Center
Avier was diagnosed with a rare and fast-growing brain cancer, which has turned his family's lives upside-down. Only 2 years old, Avier has already undergone numerous surgeries, as well as many chemotherapy and radiation treatments. These have left him unable to speak, eat or walk normally. Throughout these difficult times, Avier's family has remained incredibly positive, in order to encourage their child to keep fighting this dreadful diagnosis.
Needs:
Avier and his parents need help with basic needs while his family is dealing with this unthinkable situation and his Father has lost much time at work.  Any financial assistance would be greatly appreciated. Urgent need for food gift cards and help paying for utility bills.
---
Letter from Social Worker:
Dear Jessica June Children's Cancer Foundation,
Avier is a two-year-old pediatric oncology patient at Salah Foundation Children's Hospital at Broward Health Medical Center. I first met Avier and his family when he was diagnosed with Atypical Teratoid Rhabdoid Tumor (ATRT) in February 2018.  He had surgery and was briefly hospitalized before being referred for treatment options at St. Jude Children's Research Hospital in Memphis, TN.  The family interrupted their lives to travel to St. Jude, in hopes of a miracle for Avier.  Unfortunately, he didn't respond to treatment and is now on hospice care.
Avier's family has remained realistically optimistic throughout treatment. When attending appointments, his family always has a positive attitude, despite the hardships they are going through.  They have stayed strong for their son and other children, and have relied on their family and faith for support.  Throughout this process, their family changed when they welcomed a new baby in November 2018. Avier's father has taken time away from work to travel to St. Jude and for his medical care.  He is working as often as he is able to, in order to provide for his family. This family would benefit greatly from the support of the advocacy program during these unimaginable circumstances.
Sincerely,
Melissa Stachowiak, LCSW
Social Worker
Salah Foundation Children's Hospital
Broward Health Medical Center

Click on the PDF icon to view original letter from the Hospital Social Worker
---
Plea from Mother:
Two-year-old Avier Grant was born on the 13th of July 2016. He was diagnosed with a stage 4 brain cancer on February 17, 2018; Atypical Teratoid Rhabdoid tumor. He had met all his milestone up until the day he was diagnosed; his first surgery was done at the Broward General Hospital after which the hospital told us they couldn't do any more for him. However, they referred us to the St Jude children hospital which was his only chance of survival.
We visited the St. Jude children hospital thereafter and my husband and I were told Avier only had 35% chance of survival. He went through 8 months of treatment, these include; 4 cycles of chemotherapy and 6 weeks radiation, which made him so sick but he was determined. No matter how devastating it was for me to watch him fight for his life, I kept a smile on my face. He was watching my every move and feeding off my energy. This was the longest 8 months of our life. Within the first week at St. Jude they did a surgery to place a port in his chest, he also did a second brain surgery to remove the remaining fragments of the tumor after his first two cycles of chemo. This process caused him to develop some disabilities such as the loss of his ability to speak, eat and to balance while walking.
They did a fourth surgery to place a Mickey button G-tube in his stomach in order for him to consume food. At the end of the treatment in September he was cancer free at last, we were sent home two weeks earlier. However, we had to return to St Jude children hospital on October 17th, 2018 for follow up. On our Return to the hospital, the new MRI results showed that the cancer came back in full force. There were now two more tumors growing on the brain and three in his spine. All his doctors were in shock by the sudden turn in his condition. We were sent back home under the care of the Broward General Hospital where he had done his first surgery. The treatment had failed and there was nothing more that the St Jude children hospital could do for him. During these tests, drama and emotional roller coaster, I was 8 months pregnant, and I also had my 4-year-old son to care for.
I was told that if Avier saw Christmas in 2018, it would have been a miracle. Now it's January 2019 and I have witnessed that miracle. Avier is still fighting this horrible disease and as he keeps fighting, I have no intention to give up. God is our weapon and we declare healing in the mighty name of Jesus. And I know we will witness an even bigger miracle soon. Please help us through this journey. It could have been you or your loved one, for this disease has no respect for anyone. A big thank you to everyone who has helped us in any form of whether from near or far. God, our family and friends, the churches, the hospitals, and the Jessica June Foundation who has been helping my family through our most difficult test.
Daniela (Avier's Mother)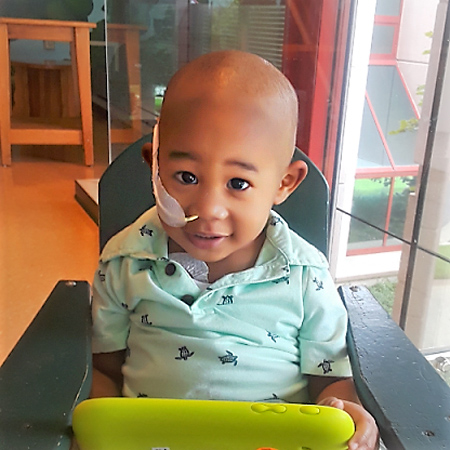 Avier