Assisted Children: Individual Stories
Boy's Cancer Destabilizes Family of Almost (6)
Collection Complete July 2022.  Thanks to generous contributors, JJCCF's Financial Assistance / Advocacy / Supportive Care Services Programs and collaborative support from partner charities, this family benefited from having access to basic human needs during a dreadful time.
---
Story:
Avinash "Avi", 9-year-old, Salah Foundation Children's Hospital at Broward Health
Since Avi was diagnosed with Acute Lymphoblastic Leukemia late 2020, his Grandmother became his Legal Guardian and fulltime caregiver.  Grandma had to quit her job to care for Avi since his mother was caring for a toddler son and now has a high-risk pregnancy.  Father works 6 days/week at a shoe warehouse in Miami and is the sole breadwinner for the family of soon to be (6).
Needs:
Family needs temporary financial assistance making ends meet while Avi finishes his cancer treatment.  Most urgent needs are rent, food and gas for transportation.
---
Letter from Hospital Social Worker:
To Whom It May Concern:|
Avinash "Avi" is a patient at Salah Foundation Children's Hospital Pediatric Hematology/Oncology Clinic at Broward Health Medical Center.  Avinash was admitted to the pediatric hematology/oncology unit on November 10, 2020 and was diagnosed with Acute Lymphoblastic Leukemia (ALL).
Avinash is cared for primarily by his grandmother. She attends all visits for treatment and procedures, as his father works six days per week. Avi's grandmother was working but has been unable to work since his diagnosis.  The strenuous treatment schedule for this diagnosis has caused a hardship for the family.  The first year has included the most intensive treatment involving several times weekly visits to the outpatient pediatric hematology/oncology clinic.  This family would benefit greatly from any financial support available.
Thank you for your time and consideration.
Sincerely,
Melissa Stachowiak, LCSW
Pediatric Hematology/Oncology
Licensed Clinical Social Worker

Click on the PDF icon to view original letter from the Hospital Social Worker
---
Plea from Grandmother:
To Whom It May Concern,
My grandson Avinash will be ten years old in January. He was diagnosed with Leukemia in December of 2020 and has undergone a variety of continuous treatments. He will continue to have treatments into the year 2022.  His side effects from treatment and low immune system make it difficult for him to attend traditional school, so we have him enrolled in Hospital Homebound. He is often weak, nauseous, and generally feeling ill for days at a time. His mother is currently pregnant with a high-risk pregnancy and has a toddler at home as well.  She was not able to drive Avinash to appointments or care for him on a daily basis, so I had to leave my job to become his caregiver.  His father is the only working adult in our home of 5, soon to be 6 people. His income does not completely cover our expenses and we need assistance.  Please consider helping us to become financially stable so I can focus my energy on helping my family heal without all the stress of unpaid bills.
Thank you.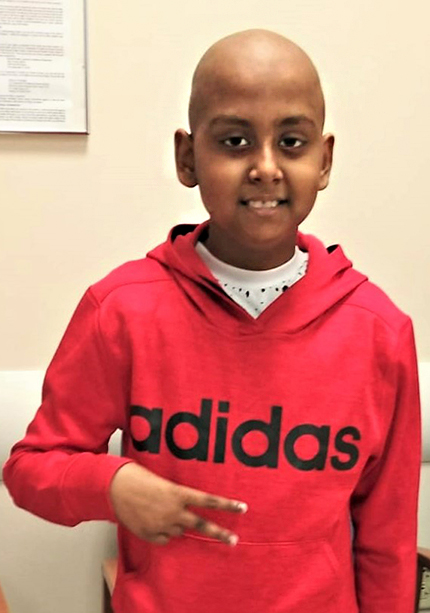 Avi