Assisted Children: Individual Stories
7 Y/O Leukemia Survivor Now Battles Relapse
Collection Complete January 2014. Thanks to JJCCF's Financial Assistance, Advocacy Programs this family benefited from having access to basic human needs during a dreadful time.
Story:
---
Ashley, 7 Y/O, Broward Health Medical Center
Ashley was a shy three year-old girl with a warm smile when she was initially diagnosed with Acute Lymphoblastic Leukemia (ALL) on September 18th, 2008.  She struggled physically and emotionally with a chemotherapy program lasting over three years to emerge as a cancer champion.  The nightmare was over.
On October 8 2012, her parents received the heart breaking diagnosis that Ashley's Leukemia had returned and that she would immediately have to begin another "more aggressive" chemotherapy program. Once again, Ashley's mother is unable to work due to the care required by Ashley's illness and medical needs. The family is struggling with this relapse, but Ashley is now older and more resilient so they remain very positive that together they will survive this second battle.
Needs:
Ashley's family needs immediate help with food, gasoline and rent.
---
Message from Hospital Social Worker, 6/10/13:
Ashley Duarte is a seven year-old patient at Chris Evert Children's Hospital Pediatric Hematology/Oncology Clinic at Broward Health. She is diagnosed with Acute Lymphoblastic Leukemia (ALL). Ashley receives intravenous chemotherapy treatment at the hospital several times per month. Ashley's Leukemia returned after her initial treatment, and she is now in her second remission. Her mother has been unable to work due to her illness which requires frequent office visits and hospitalizations. Ashley's family would benefit from financial assistance to be able to pay for household expenses due to the loss of income that has resulted from her mother being unable to be employed full time. Thank you for your consideration.
Melissa Stachowiak, LCSW
Social Worker

Click on the PDF icon to view original letter from the Hospital Social Worker
---
Plea from Mother, 6/10/13
Ashley was diagnosed with Leukemia September 18, 2008.  When my husband and I were given the devastating news, our world turned upside down; we couldn't believe our only child was fighting cancer at only 3 years of age.  My husband and I kept asking ourselves why, why our little girl.  Thank God the doctors immediately took care of her and started her treatment.  The chemotherapy treatment was aggressive and often provoked vomiting, nausea, headaches, fevers, mouth sores, constipation, loss of appetite and hair.  This stage was very difficult for her and for us.  Time passed and thank God her treatment went well and finally she went into remission.
Sadly, on October 8, 2012 our hearts broke again after we were told Ashley had relapsed with Leukemia.  Hearing this dreadful news was once again very painful.  Her treatment was started immediately and with more aggressive medication.  She was hospitalized for almost one month.  During that time she lost her appetite and her hair.  My daughter was embarrassed to be seen without hair.  In order to comfort her, my husband and I shaved our hair.  She has been responding well to her treatment thanks to God and her doctors.  Although the treatment process is long, I have faith that my daughter will be fine and that we will be able to put this trying experience behind us soon.
Sincerely,
Mayra Renteria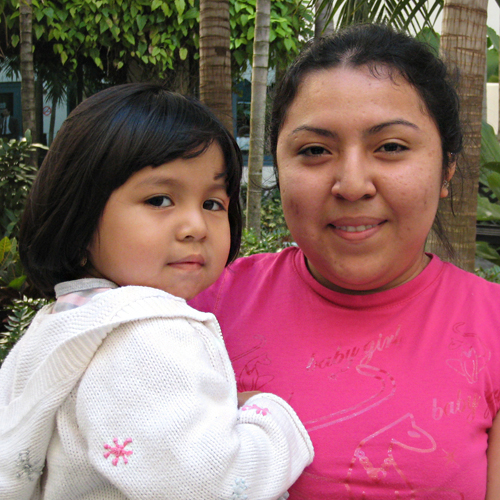 Ashley 2008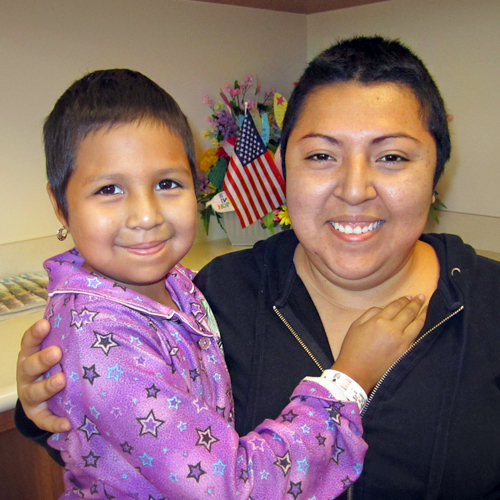 Ashley 2013