Assisted Children: Individual Stories
Family escapes Venezuela to save child diagnosed with Burkitt's Lymphoma
Collection Complete October 2019.  Thanks to generous contributors, JJCCF's Financial Assistance / Advocacy Programs and collaborative support from partner charities,  this family benefited from having access to basic human needs during a dreadful time.
---
Story:
Alessandro, 6-years-old, Holtz Children's Hospital at Jackson Memorial Hospital
6-year-old Alessandro was diagnosed earlier this year with Burkitt's Lymphoma in Venezuela. Family of (4) escaped Venezuela's humanitarian crisis and has since been hospitalized at Holtz Children's Hospital without insurance coverage. This child's only hope of survival was to leave their home country in turmoil and seek mercy in the U.S.
Needs:
Alessandro's parents plea for help paying their medical bills and gift cards for food/gas during this dreadful time.  Parents are also caring for their 2-year-old daughter as they focus on Alessandro's survival.
---
Letter from Social Worker:
Alessandro Martinez Passanisi is a 6 year old boy from Venezuela who was in his usual and normal state of health up until the time he began complaining of abdominal pain in late January 2019. He was taken to his PCP in Venezuela who ran some basic lab work, which came back abnormal. He was sent to a local hospital, who after further medical workup, discovered a fairly large mass in his abdomen and became suspicious for malignancy. Given the very volatile and unstable political climate in the country, Alessandro's parents were strongly urged to seek further medical for Alessandro outside of Venezuela.
His parents, having active US visas, immediately booked a flight to Miami and traveled with Alessandro and their 2 year old daughter. They came straight to the ED at Holtz Children's Hospital where the patient was eventually admitted and, after performing diagnostic testing and a mass biopsy, it was determined Alessandro has Burkitt's Lymphoma and needed immediate treatment with chemotherapy.  The patient has been in our medical center since January 26, 2019.
Alessandro's parents both in a small family owned business in Puerto La Cruz, Venezuela. They have had to leave their business / livelihood behind, given the present medical situation with their son. They have no medical insurance and are basically relying on monies they've been able to fundraise through Go Fund Me to help pay for the patient's huge medical bills. JJCCF has aided the family with gift cards for food and gas which have assisted them tremendously. Hopefully, through the JJCCF Advocacy Program, others will learn of Alessandro's needs and will be moved to donate whatever they can to help. Thank you JJCCF for all you do to help children in need. May God continue to bless you all!
Rolando Tabares, LCSW, CCM
Holtz Children's Hospital, Jackson Memorial Hospital

Click on the PDF icon to view original letter from the Hospital Social Worker
---
Plea from Mother:
Dear JJCCF,
My son Alessandro is 6 years old from Venezuela, a healthy and happy child until January 2019 when he presented abdominal pain, after the doctor's investigation, he was diagnosed with Burkitt's Lymphoma/ Leukemia. Alessandro has been hospitalized at Holtz Children's Hospital ever since; he does not have insurance coverage, and since he was admitted to the hospital has been undergoing diagnostic testing and treatment for this disease.
We are a family from Venezuela, escaping a country and a regime which doers not respect human rights. Venezuela is facing a huge crisis, so it is impossible to treat our son there. After months of being threatened back home, we decided to leave everything behind to come to have a better life, but now we are facing this challenging time with our son health and the financial struggles that this add to our situation in a new country.
As a mother, it is painful to see your child in pain and suffering, plus the worries of not having the money to pay for his medical bills or our basic needs, including supporting our 2 year old daughter, Alessandro's little sister.
We ask for your help in this challenging time for my son Alessandro and for us as a family. We will forever be thankful for your contribution to pay Alessandro's treatment to overcome this disease. Alba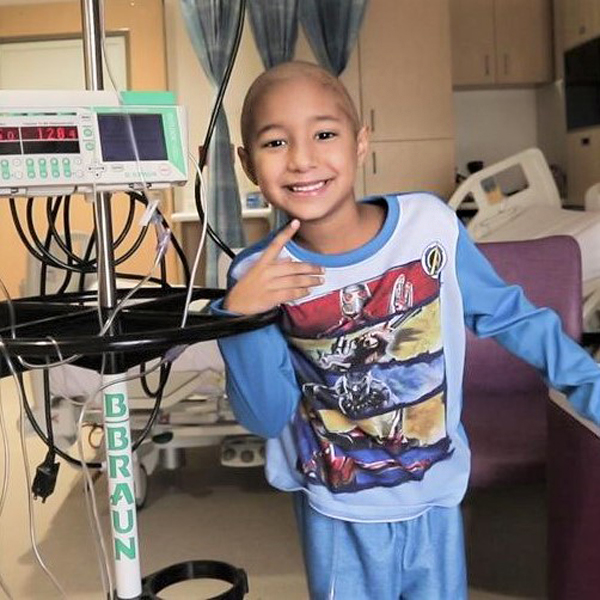 Alessandro at Holtz Children's Hospital