Assisted Children: Individual Stories
Father Pleas for Help for 16-month-old Twin Son with Liver Cancer  Spread to Lungs
Collection Complete May 2019.  Thanks to generous contributors, JJCCF's Financial Assistance / Advocacy Programs and collaborative support from partner charities,  this family benefited from having access to basic human needs during a dreadful time.
---
Story:
Ahmad, 16-months-old, Salah Foundation Children's Hospital at Broward Health Medical Center
Ahmad has a twin brother, but there is one major difference between the 2 boys; Ahmad has cancer. What started as liver cancer has now, unfortunately, spread to his lungs. Ahmad will now require an additional 6-7 months of chemotherapy. His parents are unable to work, as they care for Ahmad during his treatment and try to maintain some sense of normalcy for their other son.
Needs:
Ahmad and his family need help with all basic needs. They have no income and no family support in the U.S.
---
Letter from Hospital Social Worker:
Dear Jessica June Children's Cancer Foundation,
Ahmad Tasbih is a 16 month old pediatric oncology patient at Salah Foundation Children's Hospital at Broward Health Medical Center.  Ahmad was first diagnosed with hepatoblastoma in April 2018 when he was only 11 months old.  Ahmad was treated throughout this year for his liver cancer with chemotherapy and surgery.  Unfortunately, in August 2018, it was discovered that Ahmad's cancer has spread to his lungs.  He continues to require chemotherapy which will go on for at least six more months. His treatments are primarily inpatient and he has needed additional time in the hospital due to complications from his treatment.
Ahmad's father had been working full time initially, but has had to take increasing leave from work in order to support his son throughout his treatment process. Ahmad also has a twin brother and his mother is not working.  His parents are without support from family in this country, caring for their two young sons.  This family would benefit from any assistance possible during this time of need.  Thank you to the Jessica June Children's Cancer Foundation for the support that would be so beneficial to this family.
Sincerely,
Melissa Stachowiak, LCSW
Social Worker

Click on the PDF icon to view original letter from the Hospital Social Worker
---
Plea from Ahmad's Father:
My name is Anichur.  My 16 month old son Ahmad, was diagnosed with a hepatoblastoma liver cancer in April of 2018. This is cancerous and was now found again in his lungs.  Ahmad has gone through high intensity chemotherapy treatments, which are done inpatient in the hospital for the course of the next 7-8 month depending on the end status of the cancerous tumor.
I have had to completely stop working to be with him in the hospital full time to take care of Ahmad. I also have a 16 month old son, his twin brother, who depends on me full time. My wife also does not work.  I have no income at this time and has been a great challenge to pay all our bills.  We don't have anybody who can help.  We so desperately need help and are asking for help. We greatly appreciate all the help and pray God will multiply all your blessings as you help my family in this difficult time in our lives. Anichur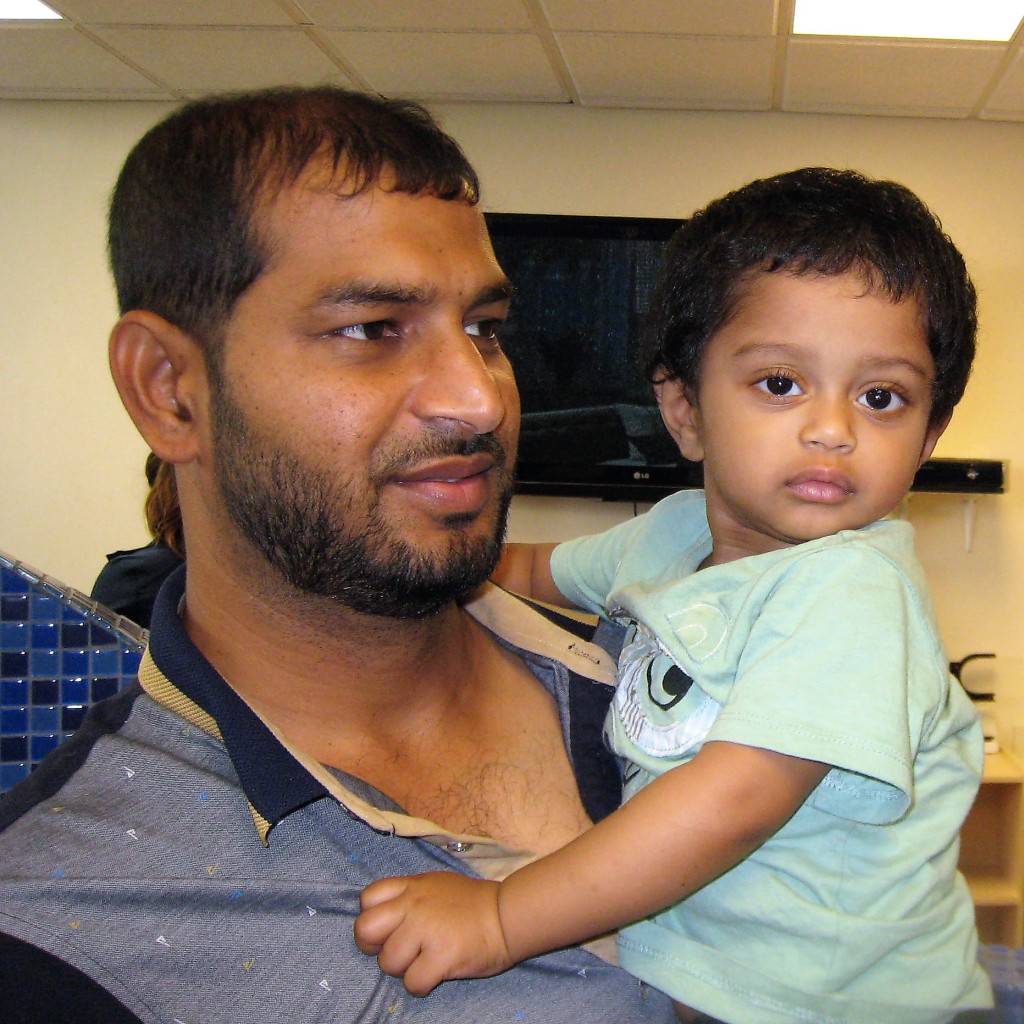 Ahmad with father