Congratulations to Fancy Jeans Raffle Winners:
Ticket No. 3299 Old Havana, Cuba Vacation Adventure, Ticket No. 0752 Holland America Line Cruise for Two, Ticket No. 0814 Atlantis Paradise Island Resort, Bahamas Escape
 BUY TICKETS (Event & Raffle)               PARTNERSHIP PACKAGE               CHILD HONOREE-ELLEN-VIDEO
 "Are… You… Ready… for "THE HOTTEST PARTY IN SOUTH FLORIDA?"
Get ready to dance the night away while enjoying an open bar and  tasty delights. This one-of-a-kind event focuses on live interactive entertainment and includes surprise appearances, a "Best Dressed Fancy Jeans" contest, an extraordinary raffle and silent auction. The unique event is produced by Events by Vento Designs. 100% of event proceeds will benefit children fighting cancer in South Florida. The Fancy Jeans Party is JJCCF's signature event and major source of funding for its Emergency Financial Assistance Program. The event has raised over $552,000 to help families fighting childhood cancer meet everyday basic human needs such as food, shelter, utilities and medical.*Last Fancy Jeans Party was sold out with 700 guests attending. Buy tickets now!
WHEN:    Saturday, April 1, 2017, 7:00 – 11:00 P.M.
WHERE:  Revolution Live in the heart of downtown Ft. Lauderdale
100 S.W. 3rd Ave. Ft. Lauderdale, FL 33312, T: (954)449-1025
ATTIRE:    Fancy Jeans / Nightclub Chic
TICKETS: Prepay General Admission $100 ($125 at the door if available) BUY TICKETS
Prepay VIP $200 ($250 at the door if available) BUY TICKETS
RAFFLE: (1) Ticket at $20 or (6) Tickets at $100. Win 3 Grand Travel Prizes. Promo VIDEO.  BUY TICKETS *more info below
PARTNERSHIPS:  Available from $1,000 – $25,000 view PARTNERSHIP PACKAGE
HOTELS Near Event Venue (Revolution Live)
For more event info, tickets and Partnerships please call (954)712-6322 or email Monique@JJCCF.org. You can also mail a check payable to "JJCCF" to purchase tickets for the event/raffle to: Jessica June Children's Cancer Foundation, Broward Health, 1600 South Andrews Ave, Ft. Lauderdale, FL 33316
PARTNERS: Title – Steve Savor, Presenting – Breakthru Beverage, Vertical Bridge Charitable Network, Flair Leg – Kip Hunter Marketing, Classic Fit – Revolution Live, Ageless Medical, SIDES, Wellnext, Daoud's Fine Jewelry, Video Creations, Boot Cut – AutoNation, Iberia Bank, Holland America Line, 1000+ Club, Josephine S Leiser Foundation, Windsor Diamonds, Hospitals -Salah Foundation Children's Hospital Broward Health, Joe DiMaggio Children's Hospital, Slim Fit – Publix, First Green Bank, City Furniture, Aviation Legal Group, PA, Vegso Family Foundation, Bloom, Gettis & Habib, PA, Oxford Enterprises, The Barman's Fund, Stage Trip Industries, Other – Events by Vento Designs, CreativeDust.com, Milagro Tequila, Lisa Nalven Photography, Spirited South Florida.
Entertainment Partner: Seminole Hard Rock Hotel & Casino.
Food Partners: Lobster Bar Sea Grille, Royal Pig, Hooters, Truluck's Seafood Steak & Crab House, CrepeMaker, Stork's Bakery & Coffee House, C.W.S. Bar & Kitchen, Anthony's Coal Fired Pizza.
Media Partners: Lifestyle Publications, SunSentinel, Go Riverwalk Magazine, South Florida Social, THINK Magazine, Blue Truck Productions.
Fancy Jeans Partner Testimonials (click to view)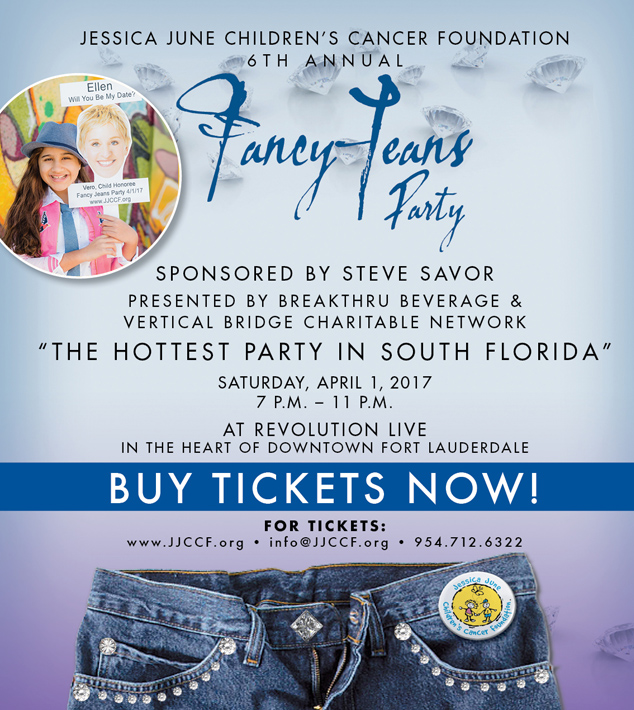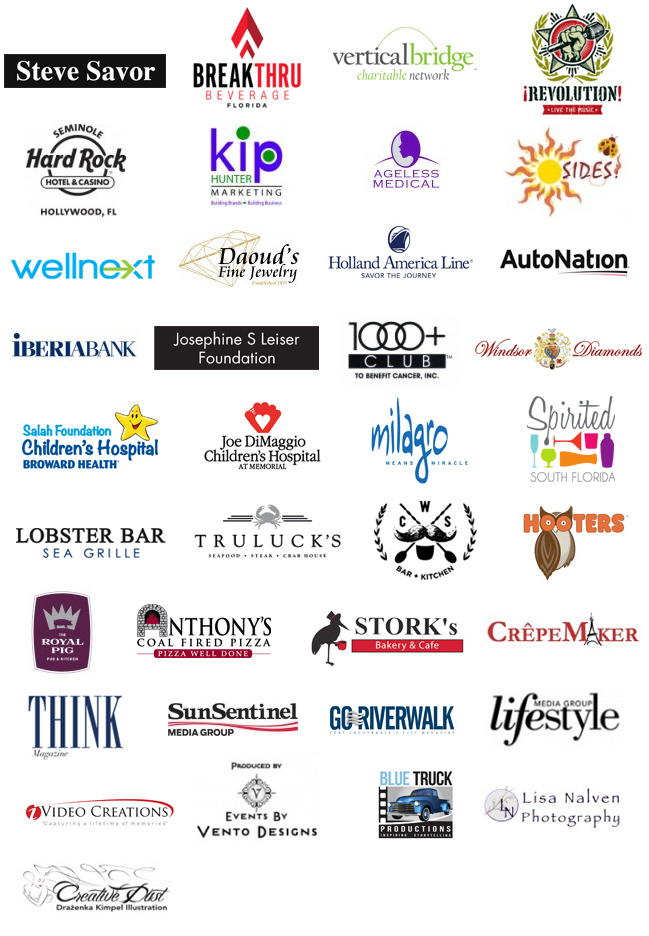 ABOUT THE RAFFLE (Only $20 for a chance to win)  Attendance is not required to win. Raffle tickets get sold by volunteers and online (3) months before the drawing. The drawing for the (3) grand travel prizes will take place during the Fancy Jeans Party on April 1, 2017 at Revolution Live, 7-11 P.M. Our Child Honoree, Veronica, will be drawing the winning tickets. 100% of the proceeds benefit children fighting cancer. The Fancy Jeans Raffle includes a chance to win – see colorful ad below – Promo VIDEO
1) Old Havana, Cuba Vacation Adventure: One Week Stay (7 nights) -fully furnished Apt. Two round-trip airfare tickets included (terms & conditions apply)
2) Holland America Line Cruise for Two: Cruise to Alaska, the Caribbean, Mexico or Canada / New England up to (7) days (no expiration date / some restrictions apply)
3) ATLANTIS Paradise Island Resort, Bahamas Escape: (4) Days/(3) Nights at Royal Towers, Water View Room (terms & conditions apply)
EVENT LEADERSHIP

Event Chair: Gustavo Carvajal, First Vice President – Wealth Management at Merrill Lynch
Child Honoree: Veronica Avila, 11 year old survivor of Bone Cancer. Her special wish is for her idol, Ellen DeGeneres, to be her date at the Fancy Jeans Party! "Genie, will Vero's wish come true?" Vero's Video-Ellen,  Read Vero's Bio
Child Honoree Wish Co-Chairs: Katie Leibick, Katie Karl
"Best Dressed Fancy Jeans" Contest Co-Chairs: Anne Reinstein, Angela Salter
Committee: Karen Alba, Clarence Bartlett, Sandra Campos, Cindy and Wayne Eisen, Rosemery Fernandez, Nikki Holtzhauser, Natalia Lafourie, Jean McIntyre, Angela Moncada, Sandra Muvdi, Lisa Nalven, Tamara Penaranda, Mercedes Raffo, Magali Salazar, Monique Setlock, Margarethe Sorensen, Heather Staton, Ana Vento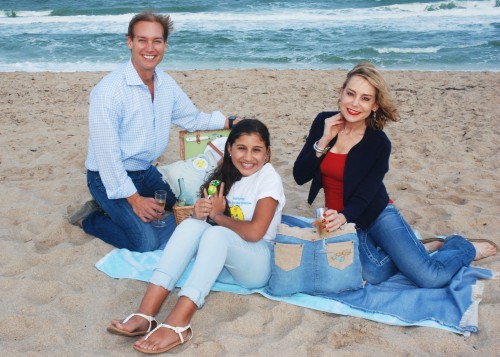 Gustavo Carvajal (Event Chair), Veronica Avila (Child Honoree), Sandra Muvdi (JJCCF President/Founder)
MEDIA COVERAGE
Boca Observer Magazine, 6/17
THINK Magazine, 6/17
Lifestyle Magazine, 6/17
The Light Magazine, 5/17
SunSentinel, 4/23/17
ElSentinel,4/20/17
Newsletter Child Honoree On Ellen Show, 4/17
AroundTown, 3/24/17
ElSentinel, 3/23/17
SunSentinel Society, 3/9/17
THINK Magazine, 3/17
Lifestyle Magazine, 3/17
City & Shore Magazine, 3/17
Boca Raton Observer, 3/17
Newsletter Child Honoree Invites Ellen, 2/17
The Light Magazine, 1/17
Sun-Sentinel Society, 10/6/16