15th ANNIVERSARY GOLD PARTY

sponsored by 007, presented by Vertical Bridge & Breakthru Beverage
BUY  EVENT TICKETS:  ONLINE TICKET SALES ARE CLOSED.  TICKETS CAN BE PURCHASED AT THE DOOR FOR $125 GENERAL ADMISSION OR $250 VIP.               SPONSOR PACKAGE     
"GO GOLD at the Hottest Party in South Florida!" (gold is the color symbolizing childhood cancer)

Dance the night away while enjoying an open bar and specialty food stations. The milestone event focuses on live interactive entertainment, and includes a sophisticated silent auction, raffle and art performance by Perego. Our Entertainment Partner, Seminole Hard Rock Hotel & Casino Hollywood, FL, will rock the house with a surprise performance!  During the event, JJCCF's Founder will GO GOLD on stage along with the winner of our "Go Gold Challenge" (fundraising teams taking the challenge to GO GOLD for kids fighting cancer).
After 15 years, serving 4,500 lives, and raising $3 million to provide emergency financial assistance for families fighting childhood cancer, the Foundation is celebrating its anniversary with a "Gold Party." The event produced by Events by Vento Designs will mesmerize guests with gold indulgence. 100% of event proceeds will benefit cancer-stricken children in South Florida. *Our last party, Fancy Jeans, sold out with 650 guests attending. Secure your ticket.
WHEN:
Saturday, June 1, 2019, 7:00 – 11:00 P.M.
WHERE:
Revolution Live in the heart of downtown Ft. Lauderdale
100 S.W. 3rd Ave. Ft. Lauderdale, FL 33312, T: (954)449-1025
ATTIRE / AGE: 
Gold Chic, 21 and up
TICKETS:
General Admission $100 ($125 at the door) BUY TICKETS
VIP $200 ($250 at the door) BUY TICKETS. *Online Ticket Sales Close this Friday, May 31st at 12:00 PM Noon.
PARTNERSHIPS:
Available from $1,000 – $25,000 view SPONSOR PACKAGE
HOTELS Near Event Venue (Revolution Live)
For more event information please call (954) 593-5603 or email info@jjccf.org.
PARTNERS:
Title Partner:  007
Presenting Partner: Vertical Bridge and Breakthru Beverage
Entertainment Partner: Seminole Hard Rock Hotel & Casino Hollywood, FL
Gratitude Partner: AutoNation, Kip Hunter Marketing, Revolution Live, Daoud's Fine Jewelry, SIDES, Ageless Medical, Josephine S Leiser Foundation, Steve Savor, Holland America Line
Hospital Partners: Salah Foundation Children's Hospital Broward Health, Joe DiMaggio Children's Hospital, Nicklaus Children's Hospital
Hope Partner: Iberia Bank, Cushman & Wakefield, Oxford Enterprises, Timeline Video Productions, The Harry T. Mangurian Jr. Foundation
Strength Partner: Publix, Aviation Legal Group, PA, Bloom, Gettis & Habib, PA, Nutranext, BBX Capital, GMAIR, Raw Juce
Food Partners: Lobster Bar Sea Grille, Anthony's Pronto Kitchen, Damn Good Hospitality Group, Casa Calabria, Piazza Italia, Wild Thyme, Spirited S FL, Festa, The Balcony Las Olas
Media Partners: Lifestyle Magazine, City & Shore Magazine
Other: Events by Vento Designs, Perego, CreativeDust.com, Lisa Nalven Photography, Nonprofit Success Services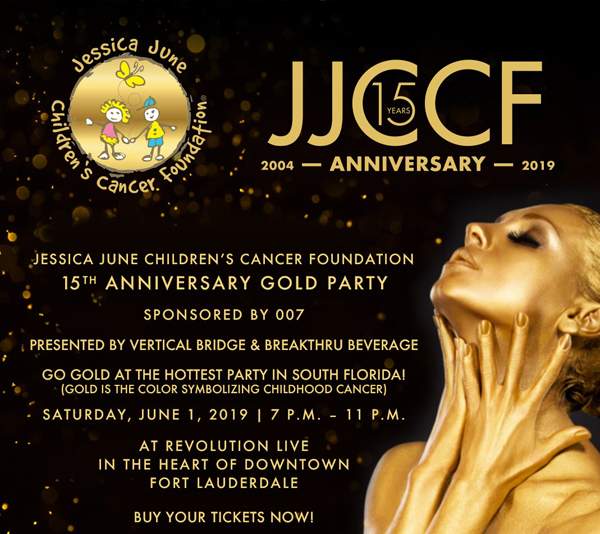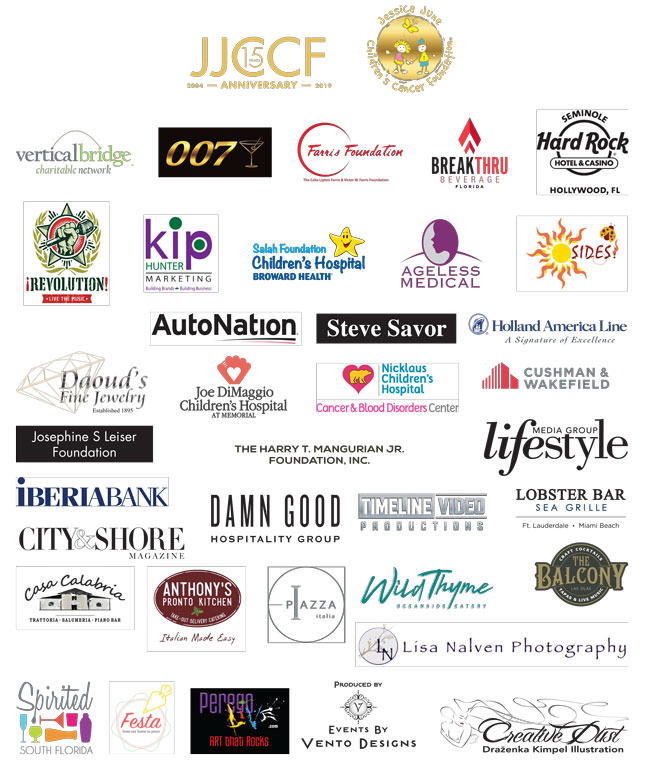 MEET OUR 15 GOLD AMBASSADORS
Each of these assisted children represents a year in the history of the Jessica June Children's Cancer Foundation as we celebrate 15 years.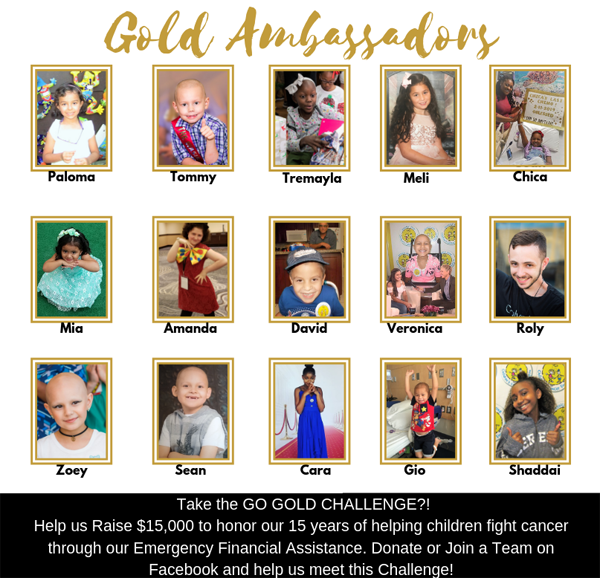 EVENT LEADERSHIP

Event Committee:
Lima Auclair, Cindy and Wayne Eisen, Louise Fawzi, Katie Karl, Natalia Lafaurie, Katie Leibick, David Lister, Leon Meir, Sandra Muvdi, Lisa Nalven, Tamara Peñaranda, Renee Plateau, Mercedes Raffo, Anne Reinstein, Magali Salazar, Carola Seminario, Alisa Sheyne, Margarethe Sorensen, Abby Srour-Larson, Ana Vento
Sandra Muvdi, President / CEO / Founder of JJCCF: "We are very excited to be hosting this milestone event, not only to celebrate what we have accomplished over the last 15 years, but to raise money for local families in need of lifeline support. In honor of our anniversary and the kids we serve, I proudly accepted the challenge to GO GOLD on stage during the event!
We are also delighted to announce The Celia Lipton Farris and Victor W. Farris Foundation has offered a $25,000 challenge grant to match our Title Sponsor. By doubling the impact, their generous grant will help us advance our mission and secure our top sponsor for the event."
MEDIA COVERAGE
SunSentinel, 7/7/19
City&Shore Magazine, 7/19
GoodNews Magazine, 7/19
S FL Business Journal, 6/19
Gold Party Recap Video, 6/1/19
NBC CH 6 News Video, 5/29/19
GoodPress Magazine, 5/19
City&Shore Magazine, 5/19
Lifestyle Magazine, 4/19