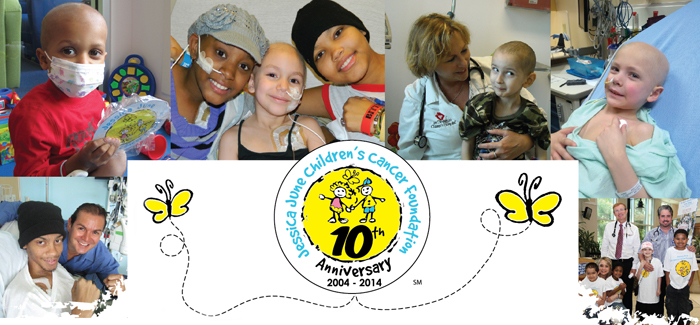 JJCCF 10th Year Anniversary Recognition (2004-2014): City of Fort Lauderdale Proclaims
May 24, 2014  "Jessica June Children's Cancer Foundation Day"
Dear JJCCF Friends,
As we approach our 10th Year Anniversary in the midst of my own cancer journey, I reflect on its significance. From a tragedy hope was born for many families enduring pediatric cancer. I feel sorrow for the loss of my only child, but at the same time joy for what we have accomplished together and for a special recent recognition:
·Providing emergency financial assistance, hope, compassion and love to 2,500 children and family members fighting childhood cancer
·Raising $1.6 Million and achieving a high level of expense efficiency (98.7% of Total Expenses were Program Service Expenses)
·Mayor Jack Seiler and the City of Fort Lauderdale, Florida have issued an official Proclamation naming Saturday, May 24, 2014 as: "Jessica June Children's Cancer Foundation Day" in recognition for the invaluable service they provide the children and families in the community for the past 10 years since its founding.
Although for now circumstances only allow a quiet celebration, I invite all of you to participate in my quest to raise $200,000 in honor of the milestone reached. It is with great joy I share The Wasie Foundation has issued JJCCF a $25,000 Matching Grant for the occasion. Your donation will be matched dollar for dollar and have double the impact! Please consider setting your own personal goal or one of the following commemorative contributions listed on our website DONATION page:
·$10 Donation $1 per anniversary year – provides gas gift card for a family
·$50 Donation Congratulations for a 5 STAR nonprofit! – provides grocery gift cards for a family
·$100 Donation $10 per anniversary year – pays a medical bill or prevents loss of electricity for a family
·$1,000 Donation $100 per anniversary year – prevents homelessness for a family
·$10,000 Donation $1,000 per anniversary year – sponsors 5 families in crisis fighting pediatric cancer – Share the Joy)
You can also achieve your goal by creating a personal Fundraising Page (on Razoo) or set up monthly Recurring Donations on our website donation page.To Donate by Mail simply mail your check payable to "JJCCF": Jessica June Children's Cancer Foundation, Broward Health, 1600 South Andrews Ave., Ft. Lauderdale, FL 33316
As I focus on my personal battle with Breast Cancer (having an excellent prognosis), I am confident together we will reach the goal so JJCCF can continue to impact and help save one child at a time. With your support we can make 2014 an outstanding year for the Foundation! I extend my sincere gratitude to all contributors for being a part of this milestone and journey.
Sandra Muvdi, MBA, President / Founder
P.S. I invite you to Meet JJCCF Assisted Children who are all superheroes and my inspiration.