Assisted Children: Individual Stories
Family Struggles with 3rd Relapse of 16 Y/O Fighting Leukemia (AML) & Rare Ulcerating Skin Disease (RIP)
Collection Complete January 2014. Thanks to JJCCF's Financial Assistance, Advocacy Programs this family benefited from having access to basic human needs during a dreadful time.
Story:
---
Marjorie, 16 Y/O, Broward Health Medical Center
Marjorie is an amazing 16 Y/O girl whose smile and optimism are contagious.  She was diagnosed with Acute Myeloid Leukemia (AML – a very aggressive cancer) in November 2011.  In addition, she was also diagnosed with a rare ulcerating skin disease identified as Pyoderma Gangrenosum. This skin condition causes deep painful ulcers to develop in many areas of the body. Many of these ulcers developed into chronic wounds that scar or can take months to heal.  Marjorie struggled physically and emotionally with the combined chemotherapy program and rigorous steroid therapy in 2012 to emerge as a weary cancer champion.  The cancer battle was finally over.
Earlier this year, her parents received the heart breaking conclusion that Marjorie's Leukemia had returned for the third time and that she would immediately have to begin another more aggressive chemotherapy program that would include a Bone Marrow Transplant. Due to Marjorie's fragile medical circumstances involving her infections and frequent hospitalizations her mother is still unable to work.  This devastating stress this family of six has endured for nearly three years has come to a peak.
Needs:
Marjorie's family needs immediate help with food, electricity, water utility, gas and rent.
---
Message from Hospital Social Worker, 6/27/13:
Marjorie Cyrille is a sixteen year-old patient at Chris Evert Children's Hospital Pediatric Hematology/Oncology Clinic at Broward Health. She is diagnosed with relapsed Acute Myeloid Leukemia (AML). Marjorie was first diagnosed in November 2011. She is currently undergoing her third course of treatment, as she has relapsed twice.
Marjorie's struggle has been long and arduous, as she initially had to discontinue chemotherapy due to an infection being found during her treatment. She is anticipating a bone marrow transplantation, but has been unable to receive this due to the infection. She requires frequent office visits, and is often hospitalized due to her condition, as well as the infection.
Despite these challenges, Marjorie always comes to the hospital with a smile on her face and a positive attitude. Her family is always by her side to support her throughout this difficult journey. The family is in desperate need of financial assistance due to the strain Marjorie's illness has caused on their household. Thank you for your consideration.
Sincerely,
Melissa Stachowiak, LCSW
Social Worker

Click on the PDF icon to view original letter from the Hospital Social Worker
---
Plea from Sister, 6/25/13
I would like to take the opportunity to share the story of the most courageous young woman that I have been blessed to know and love, my little sister Marjorie Cyrille. Marjorie's story begins in 2011. Marjorie was a very joyful teenager that enjoyed the simple things in life. She was very active in her school and in her church, participating in various activities in a given week. This all came to a halt when she was diagnosed with Acute Myeloid Leukemia in November of 2011. What originally started off as a doctor's visit to inquire about a growing abscess ended up with Marjorie in a Pediatric ICU in critical condition. Along with her cancer diagnosis, Marjorie was also diagnosed with a rare ulcerating skin condition identified as Pyoderma Gangrenosum. This skin condition caused deep ulcers to develop on her entire body, from her head to her feet. Many of these ulcers developed into chronic wounds that have not healed till this day. Marjorie has been undergoing intense chemotherapy to combat the leukemia and steroid thereby to combat the skin condition since the day she was diagnosed. She is frequently admitted to the hospital for extensive periods of time due to complications with her condition. Although she is going through so much at a given time, Marjorie continues to grace us with her contagious smile and is optimistic of what the future holds for her.
Marjorie's diagnosis has placed a great burden on my family. We are struggling to make ends meet with only one income coming into our home. My mother was laid off from her previous employer leaving my father the only contributor in our home. My mother was unable to secure a job with an employer that allowed her to spend any time with my sister at the hospital. In turn my mother became Marjorie's care taker while my father worked very hard to try to pay the bills. It has continued to be more challenging for my parents to meet their financial obligations. With medical and utility bills continuing to pile up we are reaching out in hopes of receiving some assistance to help us face these difficulties. Although my family is being faced with this unexpected circumstances, we count our blessing every day and that the Lord for allowing Marjorie the opportunity to fight this illness. We remain very grateful for the generosity of those who donate to this wonderful organization and continue to aid the ones that need it the most. Thank you so much for your selflessness and consideration.
Takicha Cyrille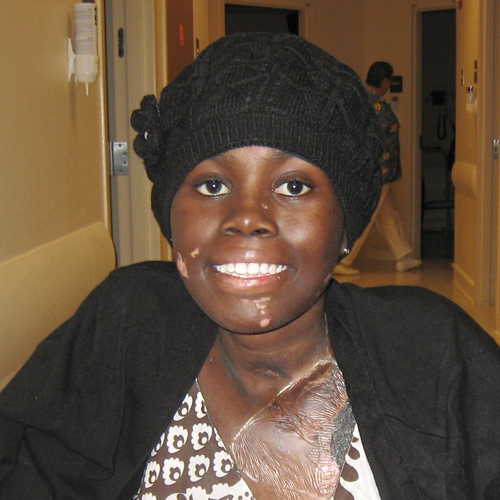 Marjorie