Assisted Children: Individual Stories
2 Y/O Boy Fights Rare Cancer As Family Pleas for Basic Needs

Collection Complete March 2016. Thanks to JJCCF's Financial Assistance and Advocacy Programs this family benefited from having access to basic human needs during a dreadful time.
---
Story:
Lysander, 2 Y/O, Nicklaus Children's Hospital, Miami Children's Health System
Lysander is a strong 2 Y/O child that has been battling Rhabdomyosarcoma since August 2014. Lysander's cancer in his right leg was spreading and his mother remained at his bedside in the hospital for three months as Lysander fought for his life. Lysander's 18 Y/O mom relocated from the Bronx in New York City to Miami in March 2015 so that she and Lysander could be closer to their family during this difficult time. The mother is unable to work due to Lysander's medical treatment requirements and is emotionally weary as Lysander continues to suffer.
Needs:
Lysander and his family need immediate help to pay for rent, food and other basic needs.
---
Message from Hospital Social Worker, 8/28/15:
Lysander is a 23 month old male who was diagnosed with Stage IV, Group 4 Alveolar Rhabdomyosarcoma. When the patient was diagnosed, in August 2014, he underwent a resection surgery that removed the primary tumor from his upper right thigh. Once surgery was completed, he was given radiation to the primary tumor's site. Every 21 days, Lysander receives chemotherapy in the hospital. These treatments are followed by weekly chemotherapy in the outpatient clinic. Lysander has medical appointments 1-3 times per week depending on the treatment schedule.
The patient's mother, Loly, moved to Miami from New York to have the support of her mother. Since leaving New York, Loly has been struggling to pay the rent at her apartment. Loly's rent is $1,000 per month and she has encountered higher transportation costs as she does not own a car. About two months ago, Lysander's father moved to Miami and began working immediately. The father's income totals about $1,000 per month. The patient receives $488 in disability per month and $200 in food stamps. This is the extent of the family's income. The family has been threatened by their apartment community that if they pay their rent after the 3rd of the month, court proceedings will ensue immediately. The patient's mother stated that the family needs a total of $2,755 per month to pay their bills.
Thank you for considering Lysander and his family for assistance.
Sincerely,
Amanda K. Treadwell, MSW

Click on the PDF icon to view original letter from the Hospital Social Worker
---
Plea from Mother, 7/22/15:
Hi, my name is Loly Sepulveda. I was born in the Dominican Republic in 1996. When I was 12 years old I moved to the United States with my mother and older brother, Michael, who was 16 at the time. At first, my mother had to provide for my brother and I without any help. About one year later my mother met my stepfather and our financial situation improved a little bit.
My mother got a little, 2 bedroom apartment in the Bronx of New York. We lived there from the time I was 12 until I was 15 years old. My mother divorced my stepfather when I was 15, my brother left the house and I stayed with my mom. When I was 15 going on 16 I got my first job at Wendy's. This was my first experience as an adult as I began helping my mother pay the bills. Shortly after I began working, I found out that I was pregnant with Lysander. My mother became furious and asked me to leave her house. At the age of 16, I found myself pregnant and on my own. I decided to move in with Lysander's father for support. I continued working until I had the baby.
When Lysander was eight months old, I got another job in a nursing home. I worked in their kitchen and did some cleaning for the facility. Everything seemed to be going pretty well until Lysander's right leg started appearing swollen. I first noticed the swelling in his leg after he received his 10 month vaccination. I called the doctor and brought the swelling to his attention. They doctor ran some tests and told me that it might be due to the vaccination. I waited one week, but the swelling remained. I decided to go to the Emergency Room at ((New York Children's Hospital.))
When Lysander was 11 months old, he was officially diagnosed with cancer; Rhabdomyosarcoma. Three weeks after the initial diagnosis, it was confirmed by a CT and PET scan that Lysander's cancer had spread. After he was diagnosed, Lysander and I were in the hospital for three months. I was in shock. It was like I was watching my life on a movie screen.
The following months were very hard and I had to quit my job at the nursing home. I decided to stay with my son and support him as he endured cancer treatment. Lysander's dad continued to work as the treatment progressed, but paying our bills became impossible. I did not want to ask anyone for help. I was so mad! I had always been so independent! But, eventually, I accepted what was happening and I reached out for help. This was a very humbling moment in my life. I was blessed with assistance from the "Friends of Karen" foundation. They were able to pay our family's rent for about one year. The foundation provided $700 per month for one year while Lysander's father paid all the rest of the bills.
We were doing ok, in the Bronx, for a while. As time passed, I found our neighborhood to be very dirty and filled with crime. I can remember that often there were people using drugs, in the hallway. Sometimes the smoke from the drugs would penetrate the walls of my apartment. The stress of having to go through cancer treatment with my son made me want the support of my family. In March of 2015, Lysander and I moved to Miami to be closer to my mother.
Since moving to Miami, I have found it much more difficult. I am still not able to work as Lysander is still in treatment. I am blessed that his father arrived two months ago and has started helping. Even though he works very hard, his income does not meet the demands of the bills. I would appreciate any help you could offer my son and our family.
Yours Truly, Loly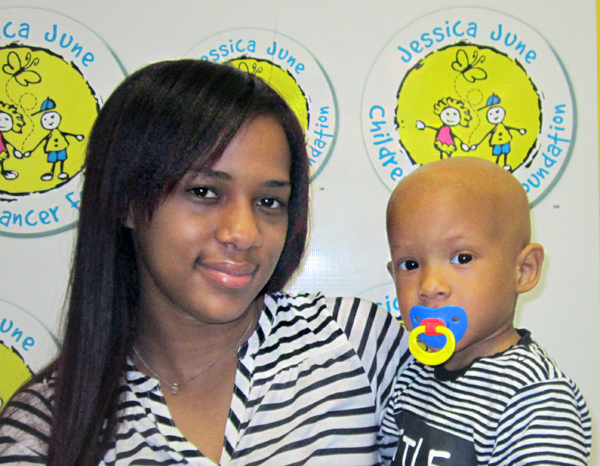 Lysander