Assisted Children: Individual Stories
Toddler Battles Leukemia as Single Mom Struggles to Provide Basic Human Needs for Family
Collection Complete January 2014. Thanks to JJCCF's Financial Assistance, Advocacy Programs this family benefited from having access to basic human needs during a dreadful time.
Story:
---
La'zorah, 2 Y/O, Broward Health Medical Center
La'zorah is a 2 Y/O that was diagnose with Leukemia in February of last year. Kellisha (La'zorah's single mom) was already struggling to make ends meet when she was informed that her daughter had cancer and would require special care that would prevent her from working. Since then, the family has struggled day to day with the cancer & chemotherapy and month to month to maintain minimum basic human needs.  The frequent chemotherapy complications and hospitalizations have challenged their hopes and they are still striving to find a home for them live on their own.
Needs:
La'zorah and her mother need immediate help with food, gasoline and rent.
---
Message from Hospital Social Worker, 6/25/13:
La'zorah Atwell is a two year-old patient at Chris Evert Children's Hospital Pediatric Hematology/Oncology Clinic at Broward Health. She is diagnosed with an Acute Lymphoblastic Leukemia (ALL), a cancer that affects the blood and bone marrow. L'azorah first came to Chris Evert Chilren's Hospital when she was 16 months old, and continues to require ongoing treatment.
La'zorah receives intravenous chemotherapy treatment at the hospital several times per month. Additionally, she requires several prescription medications in order to treat her cancer and prevent infections. She requires frequent hospitalizations due to complications related to her cancer. Lazorah's mother has been unable to work due to her ongoing care. Her family would benefit from financial assistance due to the cost and time of La'zorah's treatment. Thank you for your consideration.
Sincerely,
Melissa Stachowiak, LCSW
Social Worker

Click on the PDF icon to view original letter from the Hospital Social Worker
---
Plea from Mother, 6/25/13
My daughter La'zorah Atwell was diagnosed with ALL at only 15 months old.  This took a turn for the worst for our family.  We face hard times and had to live in the hospital for three weeks.
La'zorah now receives chemo treatment once a week. It is still very hard to watch her go through the pain she goes through every day.  We are currently in need of a place of our own, so we are asking for your help.  We greatly appreciate your support.
Thank you very much.
Kellisha Kelly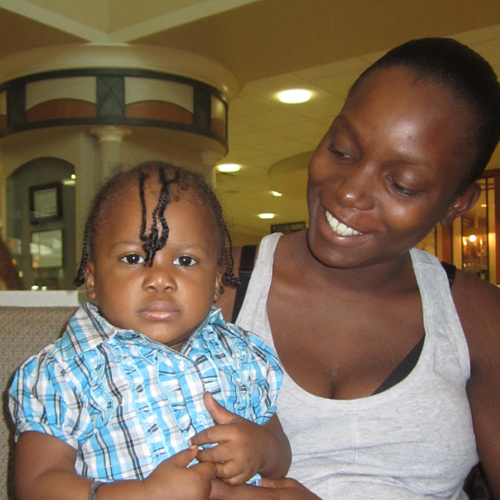 La'zorah