Assisted Children: Individual Stories
Teen Has Emergency Surgery to Save Left Leg While Battling Bone Cancer
Collection Complete November 2015. Thanks to JJCCF's Financial Assistance and Advocacy Programs this family benefited from having access to basic human needs during a dreadful time.
---
Story:
Jhavid, 17 Y/O, Holtz Children's Hospital, UM/Jackson Memorial Medical Center
Jhavid was an athletic teenager living happily in Jamaica until a malignant tumor in his left leg was discovered and was diagnosed with Osteosarcoma in April of 2014. Jhavid's single mom was told that her son would lose his leg and possible his life unless he receive specialized medical treatment that was not available in Jamaica. Both immediately relocated to Miami to begin chemotherapy at Holtz Children's Hospital in May of 2014 which led to a limb saving surgery in October of 2014.
Jhavid and his mother continue to live at the Miami Ronald McDonald House as they must remain in Miami to battle the cancer. Jhavid's mom has been unable to work given Jhavid's various medical appointments and care required. Without an income this mom is unable to pay for treatment and faces a financial crisis
Needs:
Jhavid and his mother need immediate help to pay for medical treatment and basic needs.
---
Message from Hospital Social Worker, 5/6/15:
Jhavid Johnson is a 17 year old young man who is currently battling Osteosarcoma of the left proximal tibia. He arrived from his native Jamaica with his mother last year, seeking specialized medical care which was not available for him in his country. Jhavid was enrolled in a treatment protocol which included intensive chemotherapy as well as limb salvaging surgery. Jhavid underwent surgery in October of last year and he continues with scheduled cycles of chemotherapy.
The patient is doing remarkably well, something we are all very happy about! Your wonderful organization was able to assist Jhavid and his mother some time ago and, for that, I'd like to express my gratitude. By way of this plea, however, I would like to ask that you enroll Jhavid in your Advocacy Program. As you can very well appreciate, Jhavid's mom, Donna Johnson, a single parent, has needed to obtain an extended medical leave of absence from her job in Jamaica and is basically using her personal savings to pay for Jhavid's medical expenses as well as personal expenses incurred while they remain in Miami. Both Jhavid and mom are lodged at the Ronald McDonald House. The patient is insured with Florida Healthy Kids, with a monthly premium of $153. Ms. Johnson also has outstanding bills from both Jackson Hospital and the University of Miami Health System (see attached bills) from the time Jhavid was not yet insured.
I hope that, by enrolling Jhavid in the Advocacy Program, that some donations may be possible to assist Jhavid's mom with some of these bills. I thank you all so very much!
Rolando Tabares, LCSW, CCM

Click on the PDF icon to view original letter from the Hospital Social Worker
---
Plea from Mom, 5/6/15:
Thanks for your continued help and support in helping families including myself realize that there is hope and ultimately life after cancer treatment.
Jhavid had been diagnosed with Osteosarcoma of his left tibia in April 2014 and since then I have been faced with the difficult task of dealing with his illness on my own.
Jhavid's treatment commenced at the University of the West Indies hospital in Jamaica and his conditioned worsened resulting in his subsequent treatment at the University of Miami and Jackson Memorial Hospitals. As Jhavid's only caregiver, I had to leave Jamaica with him resulting in the loss of my income and being accommodated at the Ronald McDonald's House of South Florida since September 2014.
I am asking for your assistance to help offset outstanding amounts incurred for Jhavid's treatment to enable him to continue to receive care and assist in alleviating the medical, emotional and financial stress we are facing.
Once again, thanks for your help.
Donna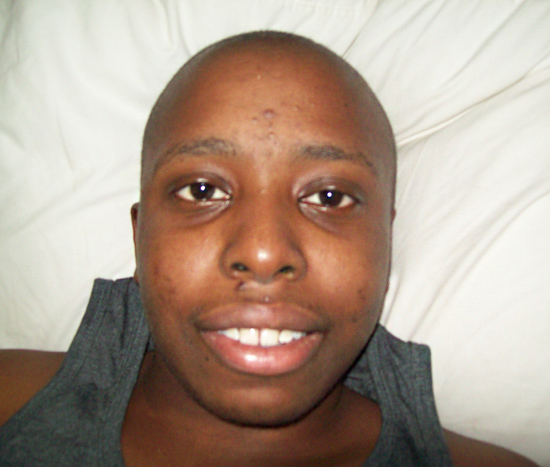 Jhavid