Assisted Children: Individual Stories
Family Struggles with Relapse of 14 Y/O Fighting Osteosarcoma (bone cancer). RIP:  Henry departed on 10/31/12 after a long battle to Bone Cancer. Plea for Donations to Cover Henry's Funeral Expenses & Prayers for His Grieving Family
Collection Complete June 2013. Thanks to JJCCF's Financial Assistance and Advocacy programs this family benefited from having access to basic human needs during a dreadful time.
Story:
---
Henry, 14 Y/O, Joe DiMaggio Children's Hospital
Henry is a strong willed child with artistic talent and a positive attitude struggling in his battle with Osteosarcoma (bone cancer). For over 18 months (diagnosed June 2010), Henry championed intense chemotherapy, radiation treatment and multiple surgeries to salvage his right femur (thigh bone needed to walk), left hip and even his lungs. In February of this year, Henry relapsed – the tumors had returned to his left hip and more recently spread to his spine. The family is emotionally exhausted and financially desperate (having to make tradeoffs between food and gas to take Henry to treatment).
Needs:
Henry's family needs immediate help to pay their rent, utilities, food and gas.
---
Message from Hospital Social Worker, 08/07/12:
Henry Wright III is a 15-year-old African American male, who is a current patient of the Pediatric Specialty Center, Division of Hematology and Oncology (Joe DiMaggio Children's Hospital). Henry was diagnosed with Osteosarcoma, a bone cancer in June of 2010.  At the current time, Henry has relapsed and his cancer has metastasized.  Henry's treatment consists of radiation, scans, and follow-up care by this office, Joe DiMaggio Children's Hospital, as well as the Palliative Care Team.
Henry will also continue to require hospitalizations either as dictated by his treatment plan or emergency as a result of a medical crisis.  The family's flow of income has diminished due the high demands of Henry's treatment.  This has resulted in extreme financial hardship for this family and financial assistance would be beneficial to help provide for his needs throughout treatment.  Please feel free to contact me at (954) 265-6389, regarding any additional questions or concerns regarding this letter.
Valerie Dorsaintvil, MSW
---
Plea from Mother, 08/07/12:
Our son Henry is a beautiful, thoughtful and artistic child. He has a strong interest in graphic design and contextual art. From the time he was a toddler he has been intrigued with art in all forms. He is capable of replicating and designing complex portraits. He is also drawn to boating and fishing. He is often requesting to participate in activities surrounding marine life.
Our family has watched Henry's inner strength evolve since he has become ill. Many of his days are spent in constant treatment and doctor's appointments. This grueling schedule would be daunting for most adults but with Henry, his positive attitude has never wavered. His countenance has been one of true optimism. Although our family entirely has tried to keep this perspective, the realities of our life are piercing.
Since Henry's diagnosis in Spring of 2010, our family has faced tremendous financial strain. My husband's salary is unable to cover the many expenses we have incurred throughout the process. I am unable to work because Henry needs constant care along with accompaniment at his numerous doctor visits and therapy sessions. His medical expenses in addition to our household bills have made this experience all the more challenging. We can't fully grasp emotionally what our son is facing. We are behind on our bills and other financial obligations. Presently we are faced with the dilemma of choosing gas to reach his appointments or groceries for meals. As much as we have tried to shoulder this, the reality of our lack is becoming heavier and heavier.
We are asking that you help us help our son. We are hardworking people who are dealing with monumental circumstances. Our family needs hope, help and your compassion as we face the days ahead.
Kecia Sampson
Testimonial from Mother, 08/07/12:
As a mother I would give anything in the world to see my 14 year old son experience a normal life without dealing with the sick days, long stays at the hospital, hair loss, surgeries, chemo treatments, and radiation therapy.
Just 2 years ago Henry's life changed drastically with a visit to the emergency room.
He started complaining of leg pains earlier that week and we really didn't think much of it.  But, when he asked for a heating pad to make the pain go away, it really concerned me.  I told him to rest his leg and if it is still bothering him, we will go to the ER when he gets home from school because he needed to take his final exams. The next day rolled around and when Henry got home from school his leg was swollen and he was still in pain. I immediately took him to Joe DiMaggio Children's Hospital to have them take a look at his leg, which they did an x-ray on.  Initially they couldn't find anything wrong with Henry's leg. So they sent us home and told us to follow-up with an orthopedic specialist, because it may be just a sprain to the knee area.
The following morning I received a phone call from JDCH, asking me to please bring Henry back to the ER because they have discovered something different.  When I arrived they asked if I had any family with me and I replied "No", it is just Henry and I here today.  Then they asked if any family members could come to the hospital, because the Doctor wanted to go over Henry's x-ray.  I immediately called home and told my husband that he needed to meet us at the hospital.  When my husband arrived we stood in the emergency room and they discussed Henry's condition stating that it maybe Cancer or an infection in his right distal femur.  From that point on, Henry was admitted into the hospital where he had to stay for several days so they can run a series of test. After waiting several days, we met with the JD Oncology Group to receive the results from his test.   Henry was diagnosed with Osteosarcoma in his right distal femur, and my heart just fell on the ground. I couldn't understand how or why this has happened to my son, was there anything that I could have done differently. How can I make things all better and for this to go away?  Unfortunately, it was not that easy.
Henry at the age of twelve began his battle with Cancer (Osteosarcoma) His first surgery took place in September 2011 was a limb salvage surgery of the right distal femur. He went through several treatments of chemotherapy and during that time the Cancer metastasized to his lungs, and his left and right hip. He also had surgery to remove tumors from those areas.   In February 2012, it was discovered that the tumor came back to the left hip and now is present in his spine.  Because surgery is no longer an option, Henry had to radiation to those areas to alleviate the pain and has been placed under Hospice.
During all this, our financial stress was growing. Our bills were growing and we were struggling to pay for basic living expenses. Jessica June Children's Cancer Foundation really helped us in a time of need. They provided such a relief during such financial stress. They provided gas cards to help us travel back and forth on a daily basis for treatments as well as paid for our FPL bill, which was weighing on us and the fear of not having power loomed over our heads. We are so grateful for the Jessica June Foundation, as they were there for us at a time of need!
Kecia Sampson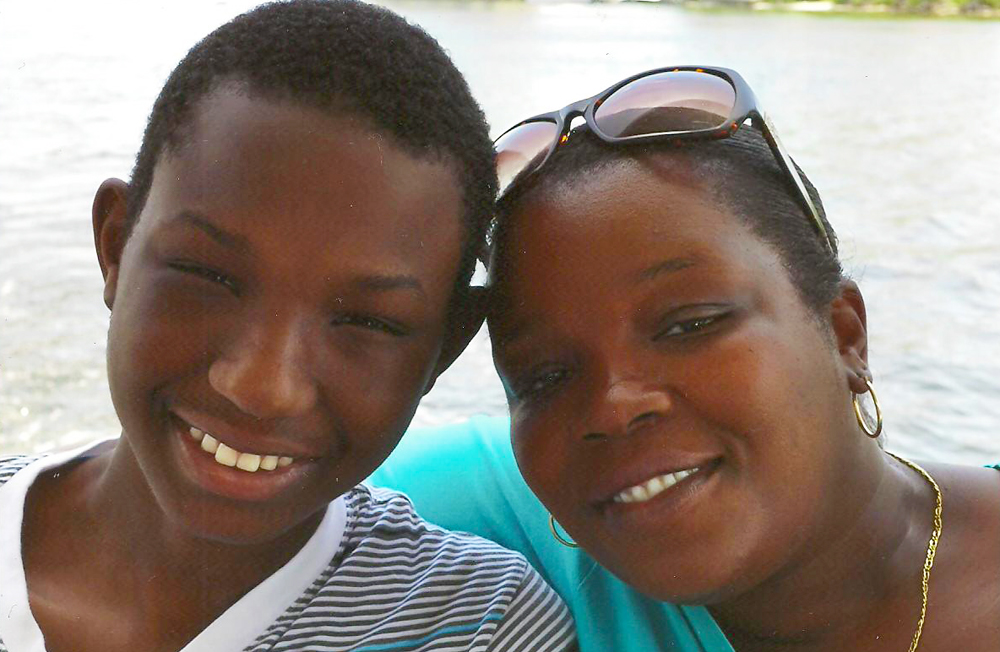 Henry with mother