Assisted Children: Individual Stories
5 Y/O Boy Survives Kidney Transplant and Now Battles Cancer
Collection Complete March 2014. Thanks to JJCCF's Financial Assistance, Advocacy and Share the Joy Programs this family benefited from having access to basic human needs during a dreadful time. Share the Joy ceremony: on 6/12/13 Daoud's Fine Jewelry donated $2,000 to JJCCF-100% benefited Gabriel.  JJCCF nominated Gabe for Bank on My Dream contest titled :"Shelter for Child Surviving Kidney Transplant and Battling Cancer".  On 8/12/14 his family won $5,000 from the Florida Bankers Association. View press story Brain Cancer News 8/18/14
---
Story:
Gabriel, 5 Y/O, Joe DiMaggio Children's Hospital
Gabriel is a loving child that has already survived a chronic kidney disease and is now battling cancer… both in the first five years of his life. Gabriel was born prematurely with end stage renal disease (ESRD) and his life was threatened for two years until he received a kidney transplant. This experience devastated the family emotionally and financially.
Earlier this year in April, Gabriel's parent's noticed a mass on his neck and were horrified to learn that it was cancer – Burkitt's lymphoma. Initially Gabriel's cancer responded to chemotherapy but recently he suffered a relapse that is threatening his life. Gabriel's medical needs have forced his mother to stop working again and shoved the family back into financial disaster.
Needs:
Gabriel's family needs immediate help with food, rent and electricity.
---
Message from Hospital Social Worker, 9/03/13:
To whom it may concern:
Gabriel is a boy of five years, well known to our service, with a long and complicated medical history.  Gabriel started life diagnosed with end-stage renal disease, which required a kidney transplant and long months in the PICU.  His complicated medical needs prevented his mother from working, and made Gabriel's father the sole wage earner in the family. In April, Gabriel's parents notice a mass in his neck. In May 2013, a biopsy was performed, revealing yet another addition to his already highly complicated clinical picture. Gabriel was diagnosed with Burkitt's lymphoma. Gabriel underwent treatment for this disease. Recent oncological follow up shows that Gabriel relapsed with the same disease.  He is currently undergoing chemotherapy treatments once more.
Gabriel's medical needs are highly complex and challenging, preventing the mother from working. Gabriel's father is the only wage earner in the family.  This situation has created a financial hardship for the family.  This family was previously assisted by JJCCF.  I ask that Gabriel and his parents be considered for the JJCCF Advocacy Program.  Further assistance can help alleviate the financial burdens placed on this family, and help alleviate the stressors they must endure on a day to day basis.  Thank you.
Regards,
Maria Torres, MSW
Social Worker for Pediatric Hematology Oncology

Click on the PDF icon to view original letter from the Hospital Social Worker
---
Plea from Mother, 9/03/13
I want to share the story of my very special little boy Gabriel Thezan. Gabriel was born on 7/27/2008. The whole family was so anxious for his arrival. Unfortunately, Gabriel had to be delivered early due to complication. Upon arriving into this world, Gabriel was diagnosis with end stage renal failure. Gabriel had to live in the Neonatal Intensive Care Unit for several months, during which I was taught how to administer daily meds and how to do his dialysis treatments which were for 8 to 11 hours each day to help clear the toxin in his body.
Given all the medical attention Gabriel needed, I was unable to work and our family hit a severe financial hardship. We lost our home and one of our cars. In 2010, Thanks to God – Gabriel received a kidney transplant! The whole family was so HAPPY. Life for Gabriel was starting to be a bit normal; I even returned back to work.
In April of 2013, Gabriel had a mass on his neck that grew double in size in a matter of weeks. The doctors ran several tests and discovered that Gabriel had Burkitt's lymphoma. We were devastated, I immediately stopped working to provide Gabriel with daily care and to take him to and from treatments. Since then, Gabriel already has relapsed and his doctors are having to take a more aggressive protocol of treatments to help save his life! With prayer I believe he will make it, but again this difficult and scary medical situation is another devastating financial hit for us.
I am hoping this letter can be an idea of what my wonderful boy is going though and pray that there is some financial help that can help us.
Sincerely,
Marie Thezan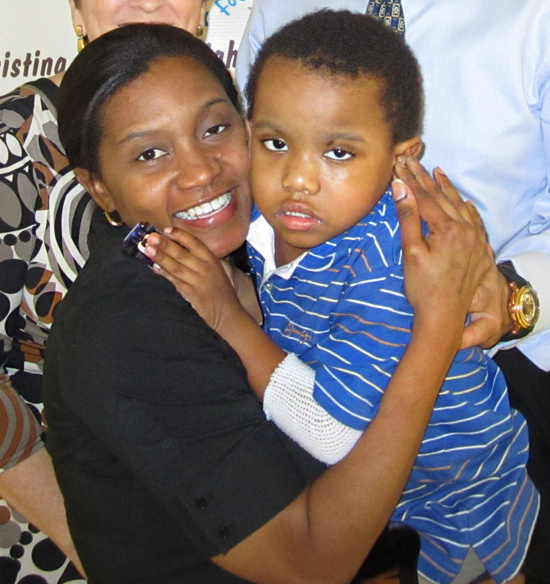 Marie and Gabriel