Assisted Children: Individual Stories
Family Struggling to Keep their Apartment as they Cope with Child Fighting Leukemia & Newborn
Collection Complete October 2012. Thanks to JJCCF's Financial Assistance and Advocacy programs this family benefited from having access to basic human needs during a dreadful time. Additionally, JJCCF nominated Dominic for El Dorado 45th Anniversary furniture make over. On 5/15/12 family was awarded with a $5,000 furniture shopping spree plus a $500 check from Channel 10! Family lives in a 2 bedroom apartment having to rent one room out for extra income. Parents sleep in their living room floor mattress and Dominic & newborn sister sleep in a bare bedroom.  See video on ABC Channel 10 news.
Story:
---
Dominic, 4 Y/O, Chris Evert Children's Hospital at Broward Health Medical Center
Dominic is the sweetest little 4 Y/O boy with a smile that lights up a room. He was diagnosed with Leukemia when his mother was 6 months pregnant with their second child, a baby girl. Mom at the time was working part-time and had to leave her job to care for Dominic. Due to Dominic's delicate medical condition which required constant hospitalizations, his Dad missed a few days of work which caused him to lose his job.  The family recently rented out a room in their two bedroom apartment leaving the parents sleeping on an air mattress in the living room, while the kids sleep in the main bedroom. To make matters worse, the family car has broken down several times leaving Dominic and Mom stranded in the middle of the street while trying to receive treatment. JJCCF has provided emergency financial assistance to pay rent and prevent the family from being homeless and grocery gift cards.
---
Needs:
For the next couple of months while Dominic is going through treatment, the family will need help with their rent and funds to repair their car so Dominic can have dependable transportation for his treatment.
---
Message from Hospital Social Worker, 04/12/12:
To Whom It May Concern:
Julio "Dominic" Cruz is a four year-old male diagnosed with Acute Lymphoblastic Leukemia since December 2011. He is receiving chemotherapy treatment. He is seen at the hospital one to four times per week.
Dominic resides with both parents, Julio and Clara Cruz. His mother was pregnant when Julio was diagnosed, and delivered a baby girl in February of this year. Julio's mother was working in a retail store but had to quit because of the demands of Julio's treatment and needs. Julio has Medicaid and was recently approved for SSI. His father was working in maintenance but recently lost his job.
They will require financial assistance to help with their rent payments. Their '97 vehicle recently broke down and needs a new transmission. Their recent loss of income and unexpected expenses caused a serious financial burden that they cannot currently afford. Thank you for your consideration.
Sincerely,
Bernadette Brunetti, LCSW
Social Worker
---
Plea from Mother, 04/16/12:
Hello my name is Clara Hernandez, I have a son name Dominic Cruz; he is 4 years old. In the month of November 2011, my son was not acting like himself. He lost his appetite every time I would make him eat, he would vomit. He wasn't as active all he would do was sleep I knew something wasn't right. On November 30th, 2011, I took him to the pediatrician for some blood work once the results came back the doctor told us that they were abnormal she sent us to Broward General  for more test . We knew that it was something serious. When we got to Broward General they did blood work again the doctor from the ER said that the result were whack they were twice as worst from the clinic so he send us to the 8th floor and they were going to do more test work the next morning.
December 1st 2011, Dominic was diagnosed with leukemia (ALL).   My husband and I were so heartbroken, we didn't know how to take the bad news. We made sure that we gave him lots of support and leave everything in god hand I was 6 months pregnant when my son was diagnose with leukemia I had to leave my part time job to take care of him . My husband lost his job for missing so many days. Our life had change in a second. Things weren't the same every week in and out of the hospital. We had been through a lot these past months with my husband being unemployed 2 month old baby girl and taking Dominic to the hospital to stay for treatment. We are asking for help to be able to fix my car that's been damaged for 3 months and for rent and bills. Thank you.
Testimonial from Parent, 04/16/12:
WE WANT TO GIVE A SPECIAL THANKS TO JESSICA JUNE FOUNDATION.
Thanks to Jessica June Foundation they were able to help us pay the rent and gift card for food. Not only did they help us financially, they also helped us in an emotional crisis. It's nice to know that there are Foundations like Jessica June that are willing to help in these hard times.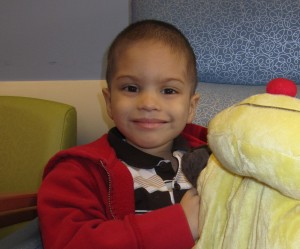 Dominic at Broward Health Medical Center