---
Assisted Children: Individual Stories
Single Mom of 5 Faces Medical, Emotional and Financial Crisis (RIP)
Collection Complete May 2010. Thanks to JJCCF's Financial Assistance and Advocacy programs this family benefited from $3,880 representing basic human necessities (several rent payments, food & gas gift cards) plus help from various collaborating charities.
---
Story:
Diamond, 7 yrs old, Brain Tumor, Jackson Memorial Hospital
JJCCF assisted child/family 8/31/09 with $2,000. Mom, Pamela, and Diamond came to Broward General to meet Muvdi to receive urgent assistance for rent and utilities. Pamela is a single mom of 5 children and father does not provide financial support. Mom has a court order for May 3rd since the last time dad provided child support was July 2009, $125. According to the plea letter mom wrote on 4/7/10, Diamond was a patient of Joe DiMaggio Children's Hospital until 9/18/09. On said date she suffered a stroke and was airlifted to Jackson to undergo 13 hours of brain surgery. Mom used to work at Miami Regional as a Dialysis Technician up to the daughter's stroke last year. The current circumstance prevent mom from working.
---
Family needs:
Urgent financial support since mom is not able to work given Diamond's medical condition (rent $1,500/month, utilities, gift cards for groceries/gas, and diapers for Diamond would be a tremendous help).
Car: Past due 2 months on her car payments and is in danger of getting repossessed. Needs urgent assistance with 3 months of car payment ($325 X 3).
Wheelchair accessible vehicle since Diamond has left side hemiparesis and can't walk.
Family needs love, compassion, and financial assistance. Mom is doing her best to cope. She wants to stay afloat.
---
Message from Social Worker, 4/21/10:
Re: Letter Regarding Diamond
Hello Sandra,
I recently met Diamond Leath and the Givens Family. This is a hard working mother, who has continued to be employed until recently despite having years of the burden of having a medically complex child. JJCCF has assisted the family in the past, and I would like to ask you to assist the family again if possible. Diamond suffered a stroke last year due to her condition and now is disabled physically and mentally and requires 100% care from her mother. Diamond's mother has been unable to return to work and Diamond has been unable to return to school due to the care needed. She is now also diabetic due to the multiple surgeries to remove the tumor.
Diamond's mother is trying to keep her mom, and life afloat while dealing with a very sick little girl who requires all of her attention and care. While caring for Diamond she is also caring for 4 other children on her own without the support of their father. Please assist Diamond's family in any way possible
Thank you,
Leah Emery, MSW
Registered Clinical Social Worker
Jackson Memorial Hospital
Phones: 305-585-8386, 305-585-7141
---
Plea from Mom, 4/7/10:
Hi Sandra,
I am sending you this letter because my kids, and i have been experiencing the most difficult times of our lives. As i told you, Diamond was diagnosed at 10 months of age with this rare pilomixoidal astrocytoma. She was on chemo most of her life up until September 28 , 2009. This day she was scheduled for chemo, but had a severe headache and was very sick. She suffered a stroke and had very high intracranial pressure. She was airlifted to Jackson where she underwent a 13 hour brain tumor ressection. One month later she had another brain sugery for a vp shunt placement. The area of her brain where the tumor is , affects her most vital activities of living. We were hospitalized for 2months straight where she had rehab. However she developed diabetes insipidus and diabetes type 2. She also has precocious puberty. I have had the worse time trying to maintain my job and be a mother to my other children ranging in ages 3 to 20 years of age. But to say the least it has been impossible. It is extremely hard trying to care for her and seek financial and emotional support. Diamond has a left side hemiparesis and cant walk. She is almost twice her weight because of the steroids and her inability to move around. I have to carry her around the house and try and let her enjoy listening to music and doing at home activities. I cant take her out because my car isn't wheelchair accessible.My 8,3, and 17 year old has suffered as well. Due to the enourmous financial strain this has put on me. We lost our house because i have missed so much work an now am facing loosing my car. My kids and i arre trying to cope with the situation the best we can,but going into 7 years have become a challenge. I went 2 weeks ago for Diamonds scans, and we got more bad news.I thought we were on the way to recovery because the doctor removed 90% of the tumor,but the tumor have already started to grow back. She is going to start radiation next week, this is our final resort. She is old enough for it now. Since the stroke Diamond has also become incontinent of her bowel and bladder, which is another financial stain. The little money i do have, i have to purchase 3-4 packages of good nites or adult diapers a week.I am BEGGING you if you have or know of anyone that may assist our family,please let me kow. Your kindness and consideration will be eternally appreciated. It was so nice to hear your voice today.I dont know why it is that speaking to someone who knows exactly what you are going through is so comforting, but it is great. You can contact me at (954)744-6185. Again thanks for everything.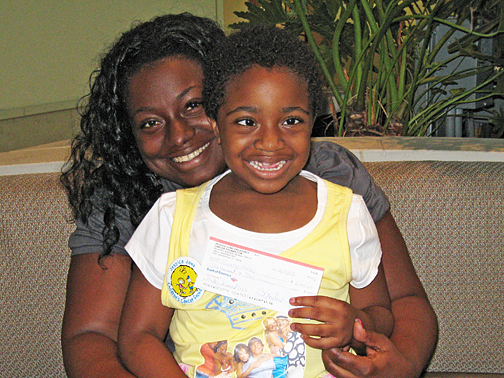 Diamond with Mom, Pamela