Assisted Children: Individual Stories
Family hit hard as their toddler is diagnosed with cancer and their new baby is also suffering from a Kidney Illness
Collection Complete November 2011. Thanks to JJCCF's Financial Assistance and Advocacy programs this family benefited from $5,525 to cover several months of rent and grocery gift cards during a dreadful time.
---
Story:
DeMario, 3 Y/O, Broward General Medical Center
DeMario was diagnosed with Wilms (Stage IV) on March 2011. Since his diagnosis DeMario's kidney has been removed and he has received chemotherapy and radiation.
When DeMario was diagnosed his mother was on her 8th month of pregnancy, she had already stopped working due to her being so far along in her pregnancy and his father had been laid off. When mother gave birth, her daughter was also born with kidney issues and DeMario's mother did not return to work to take care for DeMario and her new baby girl.
DeMario will continue a rigorous 31 weeks of treatment, during this time his mother will not be able to return to work and father is still looking for employment.
---
Needs:
For the next couple of months while DeMario is undergoing intense chemotherapy, he will need financial help to help them keep their home.
---
Message from Hospital Social Worker:
September 2, 2011
To Whom It May Concern:
Demario Hurst II is a four year-old patient at Chris Evert Children's Hospital Pediatric Oncology Clinic at Broward Health. Demario is diagnosed with stage IV Wilms tumor since March 2011. He received radiation treatments and continues receiving chemotherapy. His treatments will continue approximately through the end of the year.
Demario comes to the outpatient clinic approximately once per week for chemotherapy, laboratory counts or scans to monitor his disease. He is also hospitalized approximately twice per month for five days for chemotherapy treatment. He is a sweet, smart boy and his parents are supportive and dedicated to caring for him and his baby sister.
Demario lives with both his parents and nine month old sister. Demario's mother was pregnant when Demario was first diagnosed. His father had recently been laid off by his employer. They were suddenly dealing with Demario's diagnosis, multiple hospitalizations and treatments. They have been struggling financially because of Demario's treatment demands and inability to work full time. Thank you for assisting this deserving family.
Sincerely,
Bernadette Brunetti, LCSW
Social Worker
---
Plea from Mother, 08/04/11:
Our son DeMario Hurst II was diagnosed with Wilms Tumor on March 12th, 2011. For about 3 days he was complaining that he was having stomach aches, so as parents we made chicken soup, gave him stool softener (thinking it was gas) and made an appointment to see the pediatrician. Canceling his Pre T-Ball practice and game we went to the pediatrician and she immediately sent us to Coral Spring Medical Center for some test on his abdomen. Taking us right away with no wait because our son is only 3 years old, in the emergency awaiting to hear from the E.R doctor, shortly comes in and informs us that our son has a 13cm mass on his left kidney, most likely being Wilms Tumor. We right away researched on our phones what Wilms Tumor is and how our son can get it when my husband, my son and I were all perfectly healthy. Our families have never had any cancer or serious medical problems. One out of two hundred and fifty thousand children's between ages two and five get diagnosed with Wilma Tumor. We were thinking our lives have made a turn for the worst and I the mother, Christina Hurst is 8 months pregnant and my husband just being laid off. At this point the ambulance is being called to bring us to Broward General where the Oncologist can further assist us. We have no idea what an Oncologist is or Oncology and Hematology Unit is.
My son was then hooked up to IV's and we headed to Broward General in the ambulance. He was admitted and sent to the 8th Floor which is the Oncology and Hematology. That next morning we meet with the Oncologist who informed us that our son has Cancer and he will be doing surgery on March 15th which is 2 days later. Our 3 year old is now highly medicated and we are trying to understand what is happening. We meet with the surgeon and his exampling the procedure and the insert of a port. The surgery from what we were told takes 4-6 hours, DeMario made it out of there in 3 hours, pulling out his breathing tubs coming out of surgery when he was still sedated, showing us that he is a fighter which gives us great hope. The surgeon came out to tell us that they removed the whole left kidney including the tumor, they were very confident that they got it all. The stage of the tumor would have been a 2 but since the tumor had spread to the spine they declared it a Stage 4. We did about 2 weeks of radiation to remove the tumor from the spine because they cannot operate on the spine being that they tumor that fled to the spine is microscopic.
Now we are seeing a Nerve doctor 'Neurologist, kidney doctor 'Nephrologists, cancer doctor 'Oncologist, radiation doctor 'Radiologist, Cardiologist, Nurses and Child Life Specialist all for our son to get well.
We were release from the hospital in the beginning of April, and DeMario turned 4 years old on April 22nd and I gave birth to his sister Olivia on the 28th.
After that we received news that the radiation worked and the tumor on the spine is gone. We are continuing to go to the Cancer clinic at Chris Evert Children's Hospital getting weekly treatment of chemotherapy. His treatment will go for 31 weeks once every week and 7 weeks out of the 31 for 5 days straight. The child's life program and all the nurses and doctors there give us hope that our son will be cured after the 31 weeks of treatments.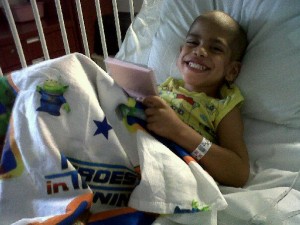 DeMario at Broward General Medical Center