Assisted Children: Individual Stories
Single Mom Lost Home, Car and Job as Child Relapses with Leukemia
Collection Complete April 2016. Thanks to JJCCF's Financial Assistance and Advocacy Programs this family benefited from having access to basic human needs during a dreadful time.
---
Story:
Ashley, 5 Y/O Girl, St. Mary's Hospital
Ashley is a vibrant child that is fighting Leukemia and has endured multiple hospitalizations that included intense chemotherapy using rare research drugs, heart blood clot emergencies and countless complications over the past year. Due to Ashley's recent relapse, she now requires a life-saving Bone Marrow Transplant. Her single mother has been unable to work due to Ashley's treatment requirements. During this dreadful time mom lost her job, car and home … forcing the family into a local shelter for nearly one year. JJCCF received an application for emergency financial assistance 10/2015 shortly after the family moved out of the shelter and JJCCF paid for their rent. The mother and daughter do not have family living locally and desperately need more emotional and financial support.
Needs:
Ashley and her mother need immediate help to pay for rent, food, gas and utilities.
---
Message from Hospital Social Worker, 10/22/15:
I would like to recommend Ashley Walker for your Family Advocacy Program. Ashley the five year-old daughter of Kayla Campbell, has endured more in her short life than most of us would ever wish to face in a lifetime. Ashley was diagnosed with leukemia and relapsed while on treatment and despite months of aggressive chemotherapy has yet to achieve remission.
The treatment has been very hard on Ashley who is an outgoing and active little girl. Most of Ashley's days that were normally spent playing and having fun are now spent either in the hospital or at the doctor's office receiving chemotherapy, blood transfusions and blood tests. Hopefully, Ashley will be able to achieve remission with this new round of intensive chemotherapy. Once in remission Ashley will need undergo a bone marrow transplant which is now her best chance of being cured.
Naturally, the emotional and financial toll that Ashley's health has had on her mother is devastating. Ashley's mother, Kayla, is a single mother who has no family in this country to help her care for Ashley. Kayla had to leave her job when Ashley was diagnosed and this resulted in her and Ashley being homeless for nearly a year. Kayla has just settled in their new apartment when she was told that Ashley still has not been able to achieve remission and that they will need to try yet another treatment in hopes of getting Ashley into remission so they can do the bone marrow transplant. Due to Ashley's current medical condition it will still be many more months before Kayla will be able to even begin to look for a new job which means they are in desperate need of help to pay their rent and utilities and basic needs. Any assistance you can provide would be greatly appreciated.
Yours truly,
Michelle O'Boyle RN, CPON
Pediatric Oncology Patient Care Navigator

Click on the PDF icon to view original letter from the Hospital Social Worker
---
Plea from Mother, 10/22/15:
Ashley is my four year old full of life and all around vibrant child. On the September 1st 2014 she was diagnosed with Acute Lymphoblastic Leukemia. Since then she has been undergoing chemotherapy treatments at St. Mary's Hospital in West Palm Beach.  July of this year, 2015 we made it to maintenance, it was one of my happiest days, but that happiness was short lived because Ashley relapsed a month later. I was told by the doctors that along with chemotherapy, Ashley is also in need of a bone marrow transplant.  Since then she has had extensive re-induction treatments and even that has failed. Now she is currently taking a research drug in hopes to get her into remission, in preparation for a bone marrow transplant.
I am a single mom with no family to help me. Since Ashley's diagnosis, I have had to put everything on hold to care for my child. I lost my job, my home, my car; everything and was forced to live in a roach infested shelter in one of the worst drug and violent neighborhoods in West Palm. During the course of one year she has had multiple hospital stays, from a blood clot in her heart to pneumonia, surgeries, procedures and countless other complications. Cancer came in the middle of the night and robbed us of everything except hope, so I am hoping that our story will touch a few heart so my Ashley can continue to get the support and medical attention that she desperately needs.
Kayla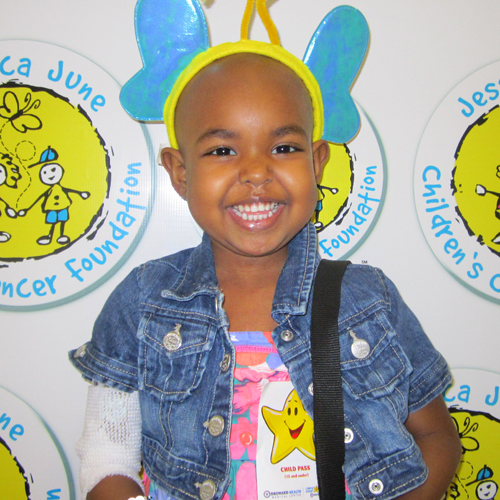 Ashley