Assisted Children: Individual Stories
3 Y/O Fighting Brain Cancer Family has already suffered the loss of a child
Collection Complete 2013. Thanks to JJCCF's Financial Assistance, Advocacy and Share the Joy programs this family benefited from having access to basic human needs during a dreadful time.  Share the Joy ceremony:  on 8/19/11 Iza & Sons donated $2,000 to JJCCF – 100% benefited Apryl.
Story:
---
Apryl, 3 Y/O, Miami Children's Hospital
Apryl was diagnosed with Brain Cancer January 2011 and has been hospitalized since then undergoing surgery to remove two tumors from her brain; however more have grown throughout her brain and spine. Currently both parents are unemployed. In March 2011, JJCCF's Financial Assistance Program paid for the family's rent, phone bill and provided grocery gift cards.
Parents have been afflicted with great loss, disease and death having to do with their children. Their first child passed away from SIDS, their second child was diagnosed with Spina Bifida and now their baby girl is fighting for her life after being diagnosed with Brain Cancer.
---
Needs:
For the next couple of months, while Apryl is receiving chemotherapy, this family needs assistance with rent, utilities and food gift cards.
---
Message from Social Worker, 4/8/11:
Dear Sandra,
This letter is on behalf of the family of Apryl Padilla, a two year old girl, newly diagnosed with Medulloblastoma in January 2011. The patient has been hospitalized at Miami Children's Hospital's Pediatric Intensive Care Unit (PICU) and the Hematology/ Oncology unit from January 14, 2011 until March 23, 2011; and again since April 1st, until presently. The patient's parents have remained at patient's bedside during both hospitalizations.
The parent's five year old sibling, Angel Padilla has been diagnosed with Spina Bifida since birth.
The family has endured great financial hardship, as Apryl's father is unemployed and her mother recently applied for Family Medical Leave Act (FMLA). Since her daughter's diagnosis in January 2011, Mrs. Barbara Padilla has been unable to work and has not been paid for these days she missed from work. The family also had additional expenses as the family relocated to an apartment which is closer to the hospital.
The Padilla family is very dedicated to the healthcare of both their children, Apryl being newly diagnosed with Medulloblastoma and Angel having a diagnosis of Spina Bifida. The family has also struggled with grieving the loss of a child approximately four years ago when Mrs. And Mr. Padilla's daughter, Aalya Lee Padilla passed when she was 4 months old due to Sudden Infant Death Syndrome (SIDS).
Since that time Apryl was diagnosed and due to her constant hospitalizations, their expenses have increased substantially. The family would greatly benefit from additional financial assistance to pay their rent and basic needs.
I thank you in advance for any financial assistance you may provide this family.
Sincerely,
Evelyn Gonzalez, MSW
Pediatric Social Worker
---
Plea from Mom, 4/12/11:
My name is Barbara Padilla. Recently my three year old daughter, Apryl Padilla was diagnosed with Medulloblastoma. She is undergoing aggressive chemo. My family has undergone so much hardship in the last five years. Apryl's brother, Angel Padilla was born with Spina Bifida and has also had seven surgeries of his own and Apryl had a sister that would have been 4, she died when she was only 4 months old from SIDS. I have recently had to stop working to take care of both of my kids. Currently, my husband and I are unemployed and it has become financially difficult. I had to move from a 3 bedroom town house, to a 1 bedroom apartment and still can't keep up with my bills. The reason I require financial assistance is so I can stop stressing over my bills. I just want to think about my daughter. Please help.
Barbara Padilla
Testimonial from Parent, 5/9/12:
Jessica June Foundation is the best thing that ever happen to the Padilla family.
When my daughter was diagnosed, we had no other way to pay our bills and JJCCF gave us some relief to focus on what was more important, our kids. In our situation it is different because we have two sick children unableing us to work, but thanks to JJCCF they have always kept us in their minds and hearts, God bless JJCCF and the awesome people that work there. I dont know what we would have done without them. When my kids get better, I would love to work for them and give back to them for helping us, they are the best in the world. I can't stress how much they have helped us and still try to help us, thank you JJCCF.
The Padilla Family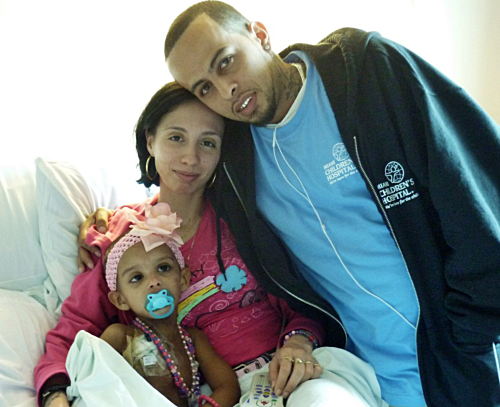 Apryl with her parents at her hospital bedside