Assisted Children: Individual Stories
Grandmother is Sole Caregiver of Toddler Facing Possible Amputation
Collection Complete January 2012. Thanks to JJCCF's Financial Assistance and Advocacy programs this family benefited from $4,340 to cover a down payment for an apartment (family relocated from Palm Beach to Broward county in order to e closer to Joe DiMaggio Children's Hospital), several months of rent, electrical bill, and provided grocery gift cards during this difficult time.  See press Holiday cover story Sun-Sentinel 12/2/11
---
Story:
Antonique, Joe DiMaggio Children's Hospital
Antonique was diagnosed in April of 2011, this diagnosis was an immediate emotional and financial crisis for Antonique's Grandmother who is her guardian. Antonique's biological mother was raped and became pregnant with little Antonique, as a result she wants no part in her life. Antonique and Grandmother lived in West Palm Beach, and without reliable transportation, her treatment was placed on a halt until her grandmother decided to move closer to the hospital. The family is still without transportation but closer to the hospital where she can walk and ask for a ride if need. Antonique's grandmother had to stop her job as a Nurse Aide to care for Antonique, who was recently told that a possible amputation might be in her future if she does not respond to treatment.
A JJCCF Staff member met with the family at a railroad station to present them with checks to help them move into a closer home so that Antonique could receive her treatment properly.
---
Needs:
For the next couple of months while Antonique will be undergoing intense chemotherapy and radiation, her family will need assistance with their rent, gas, and basic essentials.
---
Message from Hospital Social Worker:
October 03, 2011
Jessica June Children's Cancer Foundation
Broward General Medical Center
1600 S. Andrews Ave
Ft. Lauderdale, FL 33316
Re: Antonique Williams DOB 7/01/2009
To Whom it May Concern,
This letter is in regards to Antonique Williams, a 2-year-old female with a diagnosis of Malignant Peripheral Nerve Sheath Tumor (MPNST). Antonique was diagnosed with this cancer in June 2011 at Joe DiMaggio Children's Hospital. Because of where she was living at the time and problems with transportation, Grandmother decided that they need to relocate closer to the hospital since they needed extensive treatment. Once they located closer in Broward County, Antonique began chemotherapy treatments and radiation at Joe DiMaggio Children's Hospital.
Because chemotherapy can have serious side effects, including the impairment of the immune system, Antonique has required frequent hospitalizations due to complications from treatment. When not hospitalized, Antonique is currently required to come in as an outpatient on a weekly basis sometimes several times a week.
Antonique will continue to require hospitalizations, either as dictated by her treatment plan or emergency as a result of a medical crisis. The demands of treatment have caused extreme hardship for the family.
The family's flow of income has diminished. Grandmother is the legal guardian as well as a single parent in which she is not able to work at this time due to the high demands of Antonique's treatment. It is difficult for Grandmother to afford rent as well as other standard living expenses. This family is in extreme financial hardship and can benefit from any kind of assistance. Thank you.
Elisa Jones
Pediatric Oncology Child Life Specialist
Plea from Grandmother, 10/17/11:
I CAN RECALL THE ANTICIPATION WE HAD IN WAITING FOR ANTONIQUE TO TAKE HER FIRST STEP. WE KNEW THAT IT WOULD BE COMING SOON SINCE SHE HAD BEGUN TO PULL HERSELF UP BY HOLDING ON TO ANYTHING THAT WOULD SUPPORT HER. MY GRANDDAUGHTER WALKED FOR THE VERY FIRST TIME AT 7 MONTHS OLD. THE WOBBLY STEPS CONTINUED FOR SOME TIME, NEVERTHELESS, WE WERE QUITE HAPPY TO SEE HER WALKING AND FALLING OVER HERSELF JUST AS NORMAL INFANTS DO.
DURING THE NEXT FEW MONTHS WE NOTICED THAT HER WALK WASN'T EXACTLY AS NORMAL AS EXPECTED. SHE BEGAN FAVORING ONE LEG OVER THE OTHER, SHOWING MORE CONFIDENCE IN UTILIZING THE STRONGER OF THE TWO IN JUST ABOUT EVERY ASPECT. AT FIRST GLANCE, I THOUGHT IT WAS MERELY A BALANCING ISSUE AND THAT IN DUE TIME SHE WOULD OVERCOME IT OR IT WOULD CORRECT ITSELF, BUT AS TIME WENT ON IT BECAME OBVIOUS THAT MY GRAND BABY WAS DEFINITELY WALKING WITH LIMP. AFTER SEVERAL VISITS TO THE PEDIATRICIAN, AND CONSEQUENTLY TO A NEUROLOGIST, IT WAS DETERMINED THAT THERE WAS A NERVE ISSUE WHICH WAS AFFECTING THE GROWTH IN HER LEFT LEG (THE WEAKER LEG) AND THAT SHE WOULD HAVE TO BE FITTED WITH A SPECIALLY DESIGNED SHOE TO GIVE BETTER SUPPORT WHEN SHE WALKS.
THE NEUROLOGIST RECOMMENDED THAT ANTONIQUE WOULD NEED A BATTERY OF TESTS TO FURTHER DETERMINE THE EXACT CAUSE FOR THE WAY SHE WALKED AND WHAT TYPE OF TREATMENT WOULD BE NECESSARY TO ADDRESS HER SITUATION. THIS CALLED FOR FREQUENT VISITS TO DOCTORS' OFFICES AND A MORE THAN LIKELY DECREASE IN MY EMPLOYMENT TIME SINCE I AM HER LEGAL GUARDIAN AND BARE SOLE RESPONSIBILITY FOR HER EVERYDAY CARE. A FEW WEEKS LATER, WITH MY BILLS NOW PILING UP AND A DEPLETED INCOME DUE TO MY INABILITY TO WORK REGULARLY, I KNEW THAT THIS JOURNEY WAS GOING TO BE A LONG ONE. I HAD MADE UP MY MIND THAT I WOULD DO WHATEVER IT TOOK TO SEE MY GRANDDAUGHTER THROUGH THIS.
THEN ON NOVEMBER 23RD, 2010, UPON REVIEWING THE RESULTS OF ANTONIQUE'S FIRST MRI, IT WAS CONCLUDED THAT SHE HAS A PERIPHERAL NERVE SHEATH TUMOR. BY NOW, I DIDN'T KNOW WHAT TO THINK, MY MAIN CONCERN WAS, WILL MY GRAND BABY BE ALRIGHT..? I IMMEDIATELY FIXED MY MIND ON MY GOD, BECAUSE HE IS THE ULTIMATE PHYSICIAN AND IF ANYONE CAN FIX THIS – HE CAN. HERE I AM NOW, AT THE JOE DI MAGGIO CHILDREN HOSPITAL, ABOUT AN HOUR AWAY FROM HOME AND WITHOUT ANY TRANSPORTATION, AND THIS NEW DISCOVERY CONTINUED TO ECHO IN MY HEAD. THEY DECIDED TO KEEP US BOTH AT THE HOSPITAL – WE WERE THERE FOR 10 DAYS. I PRAYED, AND PRAYED AND PRAYED SOME MORE. MY CHURCH FAMILY LIFTED US UP IN PRAYERS AS WELL. BY THIS TIME I WAS STILL UNABLE TO WORK ANYWHERE, AS ANTONIQUE NEEDED TO BE CARED FOR ROUND THE CLOCK. I FOUND MYSELF THINKING, GOOD LORD, I AM OFFICIALLY UNEMPLOYED. HOW LONG WILL I HAVE TO BARE THIS BURDEN?
DOCTORS HAD SCHEDULED ANTONIQUE FOR HER FIRST SURGERY ON DECEMBER 29TH, 2010. THE PURPOSE OF THE SURGERY WAS TO REMOVE THE TUMOR, AND DUE TO ITS LOCATION, THE DOCTORS HAD INDICATED THAT MY GRANDDAUGHTER MAY NEVER WALK AGAIN. HAVE MERCY! I THOUGHT. I AM NOW BEGINNING TO PONDER MY BURDENS… NO CAR, NO JOB, RISING MEDICAL COSTS AND UNABLE TO MAKE THE RENT EACH MONTH HAVE PLACED ME IN DIRE NEED. SOME OF MY CHURCH FAMILY WERE ABLE TO HELP A LITTLE, WHENEVER THEY COULD AFFORD TO, BUT I AM NOW FACED WITH AN EVEN HEAVIER BURDEN. WHO WILL BE ABLE TO TAKE CARE OF MY GRAND BABY ON A DAILY BASIS WHILE I GO OUT AND TRY TO FIND WORK…?
JUST WHEN I THOUGHT I COULD EXHALE A LITTLE, ALONG CAME THE DOCTORS WITH SOME MORE INFORMATION. POST BIOPSY REPORTS SHOWED THAT THE TUMOR WAS MALIGNANT. TWO MORE MRIs' WERE PERFORMED ON ANTONIQUE, FOLLOWED BY A 2ND SURGERY IN MARCH OF 2011. I WAS TOLD THAT MY DEAR GRANDDAUGHTER MUST BEGIN CHEMOTHERAPY TREATMENT AS SOON AS POSSIBLE. I DIDN'T KNOW HOW I WAS GOING TO BE ABLE TO DO THAT SINCE I LIVED SO FAR AWAY FROM JOE DI MAGGIO HOSPITAL. THE STAFF DEMANDED THAT I MOVE NEARER SO THAT IF THERE WERE ANY COMPLICATIONS AFTER HER DAILY TREATMENT I COULD RUSH HER BACK TO THE HOSPITAL IMMEDIATELY. THIS PRESENTED AN EVEN BIGGER CHALLENGE FOR ME, SINCE I WAS BEHIND ON MY RENT AND WOULD HAVE TO COME UP WITH SUFFICIENT FUNDS REQUIRED FOR MOVING INTO ANOTHER APARTMENT. GOD ANSWERED MY PRAYER, MIRACULOUSLY, THE HOSPITAL INFORMED ME OF THE SUPPORT WHICH I MIGHT BE ABLE TO ACQUIRE AND CONSEQUENTLY I WAS ABLE TO MOVE ME AND MY GRAND BABY CLOSER. I KNEW THAT I WAS UP AGAINST THE CLOCK AS IT RELATED TO ANTONIQUE'S HEALTH. I HAD TO GET INTO THE FIRST AVAILABLE APARTMENT SO THAT TREATMENT COULD BEGIN RIGHT AWAY. THANKFULLY, ON AUGUST 9TH, 2011, WE WERE ABLE TO START THE TREATMENT. RADIATION TREATMENT BEGAN A WEEK LATER, AND SHE NOW HAS 19 MORE WEEKS LEFT OF CHEMOTHERAPY TREATMENT.
I AM THANKFUL TO MY GOD FOR THE PEOPLE WHO HAVE COME INTO MY LIFE AND WHO HAVE SUPPORTED ME AND CONTINUE TO PRAY FOR US, TO THE DOCTORS AND THE STAFF WHO CONTINUE TO WORK DILIGENTLY TO SAVE MY GRANDDAUGHTER. I ONLY HOPE AND PRAY THAT I WILL BE ABLE TO FIND A WAY BY WHICH I CAN CONTINUE TO LIVE CLOSE TO THE HOSPITAL FOR ANTONIQUE'S SAKE. I KNOW THAT MY GRAND BABY NEEDS SOMEONE TO CARE FOR HER DAILY, SO IT MAKES IT QUITE DIFFICULT FOR ME TO GO BACK OUT TO WORK IMMEDIATELY. THUS, I LEAN ON THE STRENGTH OF MY FAITH AND BELIEVE THAT GOD WILL ANSWER MY PRAYERS.
Testimonial from Grandmother, 12/05/11:
I am so thankful for the work you are doing Sandra.  May God continue to bless you as you help others like myself. May He give you the strength you need to do your daily chores.  Thank you so much. Elaine Hamilton (Antonique's Grandmother and Legal Guardian)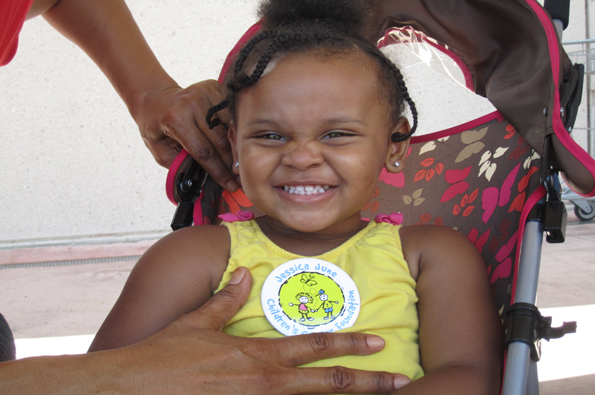 Antonique