Assisted Children: Individual Stories
Family Struggles with Relapse of 17 Y/O Daughter Fighting Hodgkin's Lymphoma
Collection Complete May 2014. Thanks to JJCCF's Financial Assistance and Advocacy Programs this family benefited from having access to basic human needs during a dreadful time.

Story:
---
Angela, 17 Y/O, Palms West Hospital

Angela was a happy healthy teenager until she was surprisingly diagnosed with Hodgkin's Lymphoma in March of 2013.  Since then life for her and her family has become dramatically more challenging. Angela immediately was removed from school and began rigorous chemotherapy and radiation treatment that eventually eliminated a large tumor on the left side of her neck. The family, emotionally exhausted, was relieved that their daughter was saved and their nightmare with cancer was over.  Unfortunately, weeks later another tumor was discovered on the right side of Angela' neck and soon after her father was laid off from his farming job and lost their health insurance. The family has been emotionally and financially devastated but yet they remain strong in supporting each other to survive this crisis.
Needs:
Angela and her family needs immediate help to pay for food, rent and medical insurance.
---
Message from Hospital Social Worker, 10/08/13:
Re: Angela Trevino
DOB: 2/6/1996
Angela is a 17yr old patient of our practice with known diagnosis of Hodgkin's Lymphoma, a life-threatening illness.
Date of Diagnosis: 3/7/2013
Past Treatment info: Angela has currently completed intensive Chemotherapy & Radiation; however, follow up scans showed a lymph node that has enlarged since originally scanned so Angela will need to follow up with the Radiation Oncologist and the surgeons to see what the next step will be. This will require her and Mom to travel 130 miles round trip for these follow up appointments not to mention her coming to the Hospital once or twice a month to routinely monitor her blood counts and possibly receive transfusions depending on her blood counts. If Angela should develop a fever at any time during this period of time she will need to be admitted for a minimum of 3-5 days for that and possibly longer depending on the source of the fever. Any assistance you can provide with these expenses would be greatly appreciated.
Angela's diagnosis has put a tremendous strain on her parents especially now that her Father was laid off from his job the he has worked at for any years. Dad is presently working at a temporary position while he continues to look for full time employment.  It would be a tremendous help if you could assist this family with their basic living expenses such as: rent, electric & water. This would help to relieve a little of the stress they are under and allow them time to get back on their feet again.
Please do not hesitate to contact me if you should need any further information.
Yours truly,
Michelle O'Boyle, RN, CPON
Pediatric Oncology Patient Care Navigator

Click on the PDF icon to view original letter from the Hospital Social Worker
---
Plea from Father, 10/08/13
My daughter Angela was a happy and enthusiastic high school teenager like any other until she was diagnosed with Hodgkin's Lymphoma (cancer in the lymph nodes) in March of 2013. Everything changed for Angela and our family. My daughter had a large tumor on the left side of her neck.  Angela was immediately removed from school and required to start chemotherapy and then radiation treatments. After each session she got more and more tired which caused her to fall into depression. My wife had to stop working to help our daughter go through this tough time in her life. No child should have to go through this, no one should.  Finally the tumor disappeared, Angela was able to return to school and my wife started working again.
Just when everything was starting to go back to normal, the doctors informed us that Angela still had cancer! They found another small tumor on the other side of her neck so more chemotherapy and radiation treatment would be required!  Shortly after, I was laid off my job that I had for many years, and lost our health insurance. This is a very difficult time for my family.  Please help us pay for food, rent and medical insurance.
Thank you,
Alfredo R. Trevino III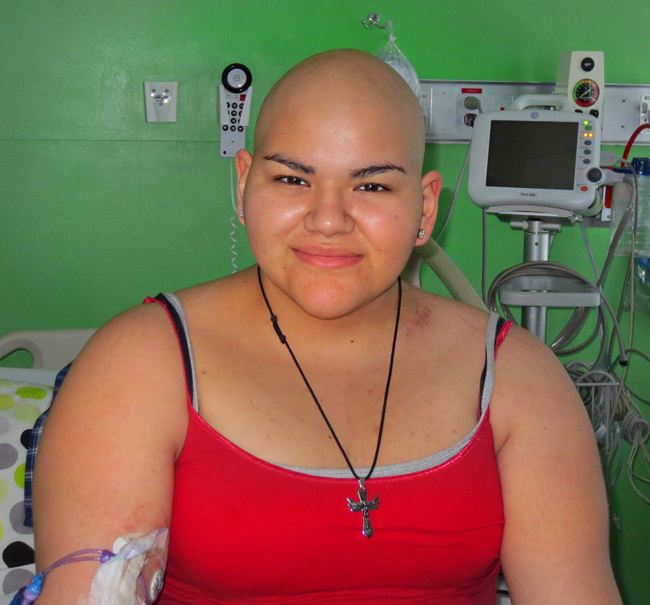 Angela at The Children's Hospital at Palms West