Assisted Children: Individual Stories
Father Laid Off While Trying to Support Family of 10 & 4 Y/O Fights Brain Cancer
Collection Complete July 2011. Thanks to JJCCF's Financial Assistance, Advocacy and Share the Joy programs this family benefited from $4,150 representing basic human necessities (several rent, electricity, water payments and grocery gift cards). Share the Joy ceremony: on 4-2-11 Florida Panthers goalies, Tomas Vokoun & Scott Clemmensen, donated $2,000 on stage to JJCCF and 100% benefited Angel and family.  See video. Local teen siblings Michelle and Kenneth Miggins raised $1K for JJCCF-100% was applied to family's rent. Angel is 2012 Fancy Jeans Party Child Honoree and his wish to meet singer Pitbull comes true! See video. See press Sun-Sentinel, Sun-Sentinel, Sun-Sentinel, Miami Herald, Las Olas Lifestyle Mag, Go Riverwalk, Think Mag
---
Story:
Angel, 4 Y / O, Joe DiMaggio Children's Hospital
Angel was diagnosed with Brain Cancer in August of 2010. After Angel's diagnosis, his mother was placed on disability due to a high risk pregnancy. JJCCF's family visiting volunteer James DeAnda met with family in February delivering hope, love compassion and emergency financial assistance. Angel's father was recently laid off from his job of five years as a mechanic due to budget cuts. Mother returned to work early after having her 3 lbs baby born prematurely to keep her household of 10 afloat. Family is unable to make ends meet during this dreadful time.
---
Needs:
For the next couple of months while Angel is receiving cancer treatment, this family will need financial assistance to pay for their rent and light bills.
---
Message from Social Worker, 4/5/11:
To Whom It May Concern:
I am writing this letter on behalf of patient Angel Nazario, D.O.B 03/01/2007, who is a male with a Hypothalamic Glioma, a form of brain tumor, diagnosis. He is treated at Joe DiMaggio Children's Hospital where he has undergone surgery and is now currently receiving chemotherapy treatments on a regular basis. It is a single parent income as mom has had to take a leave of absence from work due to Angel's intense medical schedule and necessary care. Angel's mom is returning to work after the premature birth of Angel's sister Isabella. The baby spent several weeks in NICU before being able to be at home with Angel and the family.
Angel has gone through a lot with his diagnosis and treatments so far. Angel and his mom routinely come to the hospital as he continues to receive treatment at Joe DiMaggio Children's Hospital Division of Pediatric Oncology. I highly recommend this family for financial assistance as they are a family in great financial need and are truly humbled by any type of support.
If you need any other information, please do not hesitate to contact me at 954-265-6369.
Sincerely,
Elisa Jones
Pediatric Oncology Child Life Specialist
---
Plea from Father, 03/29/11:
Good afternoon this email is to update you about Angel Nazario, we received the results from he's last MRI last week that shows the chemo is slowly shrinking his brain tumor, we just had a new baby named Isabella that was born at 32 weeks and 3.1 pounds, she spend one month on the hospital do to her size and weight, now she is home with us and gaining weight, she is 5.9 pounds this week, my wife started to work earlier because i lost my job of 5 years recently do to budget cuts and i have not been able to find another job yet, as you know is not easy for us to keep up with all the bills and expenses but we have to do our best to keep everything rolling, we have seen some improvement on Angel, he will continue with the treatment and we still don't know if he will have another surgery in the future, for now we live day by day with the hope this will be over some day and we can live a normal life again, thanks for all your help and support.
Jorge Nazario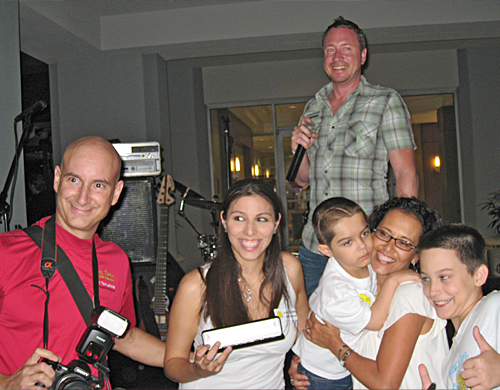 Angel with JJCCF volunteers & staff