Assisted Children: Individual Stories
Child Battles Rare Tumor Causing Father to Lose Job & Struggle to Avoid Home Eviction (RIP)
Collection Complete January 2014. Thanks to JJCCF's Financial Assistance, Advocacy and Share the Joy Programs this family benefited from having access to basic human needs during a dreadful time. Share the Joy ceremony: on 8/2013  S.I.D.E.S. (Sydney's Incredible Defeat of Ewing's Sarcoma) donated $2,000 to JJCCF – 100% benefited Ameer.
 Story:
---
Ameer, 12 Y/O, Joe DiMaggio Children's Hospital
Ameer was your typical active child until he was diagnosed with Ewing's Sarcoma (a rare bone cancer) in March of 2012.  Since then Ameer has endured an aggressive chemotherapy treatment, intense physical therapy and special radiation treatment offered in Jacksonville, Florida (300 miles away from his home). Ameer's father lost his job due to the time and care required to support Ameer in his battle with cancer. Without the father's income, this family of five struggles to pay their monthly rent and avoid eviction while grappling with the emotional threat of this rare cancer.
Needs:
Ameer's family needs immediate help to pay their monthly rent.
---
Message from Hospital Social Worker, 4/2/13:
Ameer is a 12-year-old male of Pakistani descent, who is a current patient of this clinic, Division of Hematology and Oncology.  Ameer is diagnosed with Ewing Sarcoma, a rare cancer found in the bone or soft tissue, in March 2012. Ameer's treatment consists of 12 cycles of chemotherapy, and a follow up MRI for orthopedic evaluation for a surgical procedure at the end of a total of six cycles of chemotherapy.  He and his family have also traveled to Jacksonville Florida for approximately 6 weeks for Proton Beam Therapy, which is not available to him at our hospital and part of his treatment regimen.  Ameer had been referred for physical and occupational therapy on October 17, 2012 to improve his range of motion in his left shoulder, while he continued with the remaining rounds of chemotherapy.  This increased the number of days he travels to the hospital to 3 to 4 days a week.  Ameer currently has approximately 2 more cycles of chemotherapy remaining and will be traveling to Jacksonville the end of the month for follow up care.
Ameer will continue to require hospitalizations, either as dictated by his treatment plan or emergency as a result of medical crisis.  Ameer will also continue with physical and occupational therapy beyond the course of his chemo.  The family's flow of income has diminished due to the high demands of Ameer's treatment.  This has resulted in extreme financial hardship for his family, and financial assistance would be beneficial to help provide for his needs throughout treatment.
Valerie Dorsainvil, MSW

Click on the PDF icon to view original letter from the Hospital Social Worker
---
Plea from Father, 4/2/13:
To Whom It May Concern, this is a request for financial assistance.  I am Mohammed Khan, father of Ameer Khan who is a patient at Joe DiMaggio hospital for treatment of Ewing Sarcoma Cancer since March of 2012 and continuing in 2013.  Due to his treatment, I have lost my job and having financial difficulties, especially paying rent. Therefore, I please request if I can get any financial help to pay rent.  Thanks a million for those who are by my side in this hardship.  May God bless and reward.  Thank you.
Mohammed Khan
Testimonial from Father, 11/26/12:
The Jessica June Children's Cancer Foundation (JJCCF) was on my side when nobody was in that critical moment when I had no money to pay the rent for December 2012. We were alone with nobody to help us.  Thanks a million to JJCCF.  Keep it up! May God be on your side always and reward you.
Mohammed Khan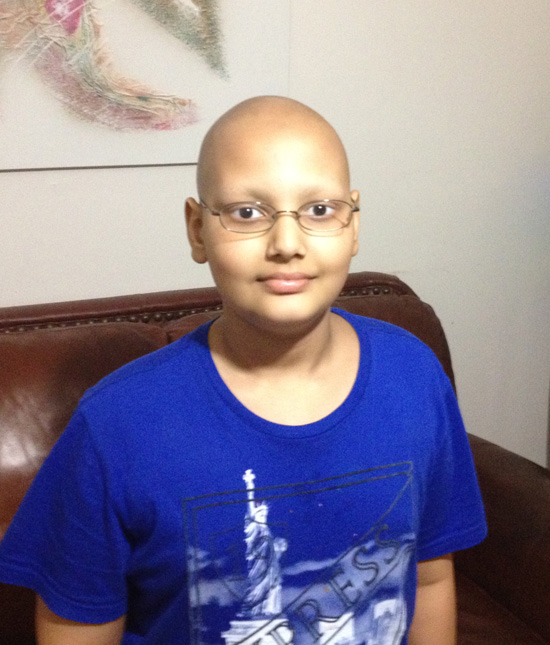 Ameer