---
Assisted Children: Individual Stories
Miami Family of 4 Struggles for Basic Human Needs As 12 Y/O Battles Ewing's Sarcoma (RIP)
Collection Complete May 2011. Thanks to JJCCF's Financial Assistance, Advocacy and Share the Joy programs this family benefited from $3,225 representing basic human necessities (several rent and electricity payments). Share the Joy ceremony: On 1-17-11, Florida Panthers goalies, Tomas Vokoun & Scott Clemmensen, donated $2,000 on stage to JJCCF and 100% benefited Alex and family. See video
---
Story:
Alexander, 12 year old, Miami Children's Hospital
Alexander was diagnosed with Ewing's Sarcoma on October 2010. Both Alex's parents are currently unemployed. Soon after Alex was diagnosed, the family found out there was fungus and mold in their flooring. This was detrimental to Alex's health, so they had to replace the flooring using the last bit of money they had saved.
JJCCF's founder first met with this family on November 1, 2010 to deliver hope, love compassion and emergency financial assistance. JJCCF's Financial Assistance program prevented eviction by providing a check payable to "Westland Mobile Home Park". Additionally, JJCCF prevented the family's power from being shut off by making a check payable to "FPL".
The father used to work selling cars, but due to the bad economy, he became unemployed. He now takes on handy man jobs whenever they become available, and Alex's mom is unable to work as she is the fulltime caregiver of her son.
---
Needs:
For the next couple of months, while Alex is receiving chemotherapy, this family will need financial assistance to pay their rent and light bills.
---
Message from Social Worker, 12/28/10:
Dear Sandra,
Thank you so much for responding to my request to provide financial assistance to this family back in October. While the patient and his family appear to be adjusting to his treatment routine and to the 3North unit, unfortunately they continue to need help with maintaining their home. They still struggle with paying household bills. Alex's father has not found employment yet and takes whatever handy man jobs that come his way. As is the case with so many of our families, it is difficult for Alex's mom, Ms. Sardinas to work since her assistance is needed with him.
Therefore I am asking that Alex and his family be considered for more assistance, this time from the Advocacy Group.
Thank you for your help once again.
Sincerely,
Beverly L. Gibson, MSW
Pediatric Social Worker
---
Plea from Mom, 12/26/10:
My name is Barbara, I am the mother of Alexander Mendez.My son Alexander Mendez has always been a very playful and happy child always very outgoing and has always brought joy to everyone. He was always very healthy although he was very hyperactive and eventually would fall off his bike or stumble while running too fast.
On September/2010 I noticed my son started to walk with a slight limp and I thought maybe he had fallen of the bike and he didn't want to tell me as to not worry me and for me to not confine him to bed rest, since I usually do that when I found out he has gotten hurt he likes to keep things from me; but as time went by I noticed it was getting worse and his walking became very disoriented to the point where he was in so much pain that he could not walk normal anymore he was practically dragging his leg and when he got in the car he had to grab his leg with both hands to bring it inside the car that's when I noticed there was something really wrong. I decided to take him to his pediatrician but she was in vacation and I had to wait 3 days for her to return when I took him in the doctor could not find a reason and sent him for an X-Ray which I took him the same day but had to wait 3 days for the results. They didn't call me so I called them in and asked them about the results and they said they had not called because nothing abnormal showed on the results so I asked for another appointment because he was still in pain which was getting sharper and more intense with time and I needed at least some pain medication for him till they could figure out what was wrong with him.
When I took him in for the appointment but they could not determine what was wrong with him so they ordered an MRI which the current HMO plan I have for him took about 2 weeks to approve for the MRI to be approved all this time my son was in pain and taking 200 MG Ibuprofen every 4 hours for pain and it was not helping anymore.
I then had to make an appointment for the MRI 3 days later after the approval cause they didn't have anything sooner, when the appointment finally came we went and he was crying in pain as he couldn't move during the MRI for a whole 30 minutes it was hard on him cause of the pain but it was devastating on me because of the impotence I felt of not being able to do anything for my child and the pain he was going through, well we left and they called about 1-2 hours later that I had to rush him to Miami Children's Hospital cause he had a fractured pelvis.
I arrived at the hospital they performed and X-ray and found nothing abnormal (at the time) sent him home with some crutches and lots of bed rest.
On the following day they called me from Miami Children's Hospital and said a specialist had re-examined the X-ray and wanted my son to be admitted to the hospital were they asked me and my husband to go in a small room and told us the worst and most devastating thing I had ever heard Your son has a mass also called a tumor, but you have to be faithful it doesn't always mean its malignant it might be benign tumor. It was the most devastating day of our lives, I had never felt so weak and hopeless in my entire life I started crying uncontrollably as well as my husband there was nothing in the world that could console us and yet they tell us we have to be strong and go back in the room with our child and be strong and not let our feelings show cause he could look right through us and pick up anything we might be feeling and plus it was not anything they were sure of at the moment. We went back in the room and my husband went out to smoke(at least that's what he told me) while we were waiting to be transported I was unable to contain myself and started to cry then my child started to feel very sad I was just a mess I had to tell him I had a terrible headache but I still feel guilty for letting myself cry in front of him but I couldn't hold it any longer. He was hospitalized from October 3, 2010- October 15,2010. During this time they ran several tests on him they performed another MRI which was an hour long so I asked them to sedate him because he was in so much pain and I was not allowed to go in with him so he would have no one to comfort him for the whole hour.
They performed a Biopsy were they had to sedate him as well.
They performed a Bone Marrow aspiration.
They did a Pet Scan which was one of the longest tests and he was in lots of pain he had to have morphine because he had been sedated too many times already.
Then they had him sedated again to have his mediport inserted as well.
The Biopsy results took about 10 days to come in which was devastating not to know what was going on for those 10 days as well as seeing my sons pain getting worse and worse overtime and they even had to double his dose of morphine cause his pain was excruciating there was a point in time they had to send in a specialist to help him with relaxation exercises techniques because they pain was unbearable and his dose of morphine already exceeded the recommended dosage for his weight, this day I couldn't take it anymore and I burst into tears again but not in front of him it was upfront at the nurses station I had to go outside and walk around and left his nurse to watch him I was not able to stay there with him but the relaxation specialist was there with him so he hardly noticed I was gone by the time I got back his medication had started working and he was peacefully asleep. These were the longest 10 days of my life I cried myself to sleep because there was nothing I could do for him except run around the floor chasing the nurses for hot packs and for his morphine when the pain started to set in but it went from a 6 to a 10 in a matter of minutes.
When we finally received the results they started him on chemo which gave him lots of nausea it took 3 days to alleviate his pain I was finally able to watch a sense of relief on my sons face and his beautiful smile once again I cried that day in front of him but when he asked me I told him I was crying out of happiness because he was not in pain for the 1st time in about 2 months. We were sent home 2 hours after chemo was finished with 3 doses of GCSF shots but then again have had no luck with the HMO approving it the social worker says she has the approval but for some unknown reason the CVS Caremark doesn't deliver the medication which is much need to boost his white blood cells and its very expensive $953. I had to go to the hospital many times to pick up the same medication which the social worker has from another patient that had donated it I really appreciate it on her part but CVS Caremark needs to be more responsible and caring and be on time with their deliveries and stop focusing so much on approvals and focus more on my child's medicine and his health cause im in a really difficult situation financially right now I live really, really far from the hospital and my husband has had to do lots of traveling back and forth cause we also wanted to put some new tile on his floor before we went home and when my husband pulled up the old flooring found it was all rotten and the floor had holes in it and was about to fall off we live in a trailer and since he had a carpet we were not aware of this until it was too late so we went from spending $150 on tile to having to buy everything to build a new floor from scratch then the tile and then when the tile was done he had to remove the walls as well cause they were all wet and moldy as well and since we were told his immune system in so compromised we decided to remove everything that was moldy when the room was finally finished the hallway that leads into his room decided to fall as well we have no money now we have had to borrow from friends in different amounts we have no job and with all this shock we have suffered emotionally probably couldn't even hold a job for long and no idea how we are going to pay our friends/ family back we don't know where we stand or what's going to happen now.
WE received monetary help from the Jessica June center and have paid for the rent and light bill but unforetunately rent and FPL don't hold on and the months go by very quickly and bills stack up very fast I have also been suffering from depression a month before all this happened as if it wasn't enough my son also got diagnosed with this disease it is very hard for me because I usually stay with him during his chemo treatments but my therapy talks usually interfere with his appointments since there are so many because he has to constantly be going to the Hemo/onco clinic to check his counts and lately they have been very low; hes already had 4 blood transfusions and 1 platelets tranfusion to which he had a reaction to within the first minutes of transfusion he developed hives itchiness all over his body swelling of the mouth sneezing and runny nose they had given him Tylenol and Benadryl right before the transfusion and had to give him more Benadryl and another type of allergic reaction medicine which I cannot remember the name right now all through his IV until he was asleep then the doctor decided to go ahead and since he was on so many anti allergic meds already to go ahead and give him the transfusion it was very traumatic for me everytime I think im going to be used to something then something worst happens that totally puts me off balance if I did not need the help believe me I would not ask for it but the truth is im not asking for myself just to pay the rent were my son resides it will be very hard to be evicted at this time and move in with someone else with all that's going on now and my depression instead of improving I feel gets worst I have no one to talk to about it just the talk therapy and that's just 1 hour I went for the first time last Monday and the meds have been delayed because the psychiatrist wants bloodwork and an EKG that due to my Medicaid with share of cost that no one accepts I cannot find anywhere to get this tests done with my Medicaid so I feel im in an abyss and my life feels very hopeless right now I used to be a very happy person before I felt I could handle anything life through at me but now I just feel as if life is truly bombarding me and not giving me a chance to fight back did I mention I have no friends to talk to about my feelings any amount of money you can donate whether its $1, $5, $10, $20, $50, $100 or more will be fine every dollar counts for me I have many expenses that I can use the money on my rent is only $440 and my light bill runs around $130 just so you are aware I don't need much but I just don't have anywhere to make that money now I cant even get a job due to my depression it's a terrible feeling of worthlessness I have please do feel free to contact me if you have any advise as far as my depression or just to email/chat it will probably do me good to have contact with other people as part of my problem has to do with me feeling so alone in this world. Thank you for taking the time to read my sons story I really appreciate it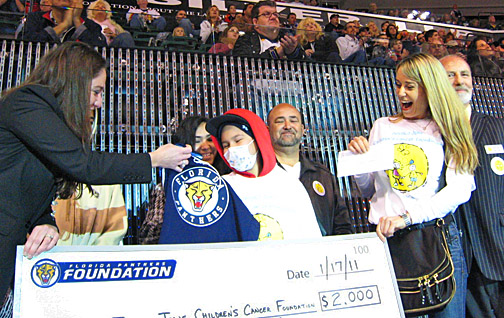 1-17-11 on stage check presentation during Panthers game.