Assisted Children: Individual Stories
Single Father and 10 Y/O Son Battle Rare Brain Cancer (RIP)
Collection Complete March 2014. Thanks to JJCCF's Financial Assistance and Advocacy Programs this family benefited from having access to basic human needs during a dreadful time.
---
Story:
Ahmad, 10 Y/O, Miami Children's Hospital

Ahmad was leading a normal boy's life full of activity and laughter with his single Father (Michael) until March of this year when he was diagnosed with a rare form of brain cancer – Diffused Intrinsic Pontine Glioma. Ahmad has a tumor located in his brain stem that connects the rest of his brain with his spinal cord. The tumor can't be surgically removed and various treatments thus far have not been consistently successful. Ahmad has been released from the hospital and referred to hospice care. This father and son continue to struggle emotionally and also financially given the father can't return to work and must provide 24 hour care. They remain resilient in their battle but need help.
Needs:
Ahmad and his father need immediate help with food and rent.
---
Message from Hospital Social Worker, 8/14/13:
Ahmad is a 10 year old boy who was diagnosed in March 2013 with Diffused Intrinsic Pontine Glioma. He received radiation treatment and was better for a short time before being referred to hospice last month.  Shortly after Ahmad's diagnosis, his father requested assistance with securing an apartment, found an apartment but discovered that the apartment was not suitable for he and Ahmad to live in because of the mold and mildew.
TilliKids, the hospice agency caring for Ahmad, is providing services in his paternal grandmother's home. She lives in senior citizen government housing and space is limited to say the least.  Ahmad's father, Mr. Gallon will not only need assistance with move in expenses, which JJCCF has been kind enough to help him with, but he will also need assistance with getting utilities turned on and maintaining his rent. He took a leave of absence from work at Miami Dade Community College as CT & D technician to care for Ahmad.
Thank you for all you do to help our children.
Sincerely,
Beverly J. Gibson MSW
Pediatric Social Worker

Click on the PDF icon to view original letter from the Hospital Social Worker
---
Plea from Father, 8/15/13
Being told "I can't even imagine being in your shoes at this time!" and "You are an amazing Dad!" and many more statements that are heart-warming and teary-eyed to hear.  What if you had the opportunity to give everything you had in order for your son to live a normal life again?  That has been my plea that remains unanswered and now we need help more than ever.
Since March 2013, when my son was diagnosed, I could write an entire journey of our experience.  The Friday weekend my son was diagnosed, we were in the process of moving to a new residence that weekend. The move and our lives were put on hold to address Ahmad's immediate health challenges. The new residence I was going to rent was now inadequate. I had to let it go due to mold and mildew that was unsafe for my son.  So I had to pack up all of our belongings and put them in storage and move in with my Mother (a very temporary arrangement because she lives in assisted living and additional tenants are not allowed).
My son was hospitalized at Miami Children's Hospital and there were many times that I would not eat because I did not want to leave my son's side while he was going through several severe complications that could have ended his life.  It was tough emotionally but nothing anyone said could change my hope for my son's survival.
We have been discharged from the hospital and are in extreme need to start over with no funds! I am a single dad and my son requires fulltime care so I had to take a leave of absence from my part-time job. I also could not continue my college studies so I received incomplete grades and this has been preventing me from getting more school loans to help support us. All of this has created an emotional and financial disaster as I am not able to maintain the funds for rent, medical supplies which are not covered by insurance, utilities, food, and car expenses.  In addition, our challenges continue to grow, I just received a phone call and one of two of our storage units have doubled in price for non-payment and the other storage will suffer the same consequence next week.
I have always been able to balance my family obligations, school schedule and my job but it is very different now and we are in a crisis … this is the most important time in our (my son and I) lives.  My son did not ask to get cancer, in fact my son didn't ask to be born, but he has been my world since he was born.  We only have each other. I was there when he took his very first breath on his own… that itself, is breath-taking…isn't it?
We need help with basic necessities like food and rent. Please, please help us continue on our journey… for survival!
Sincerely,
Michael Gallon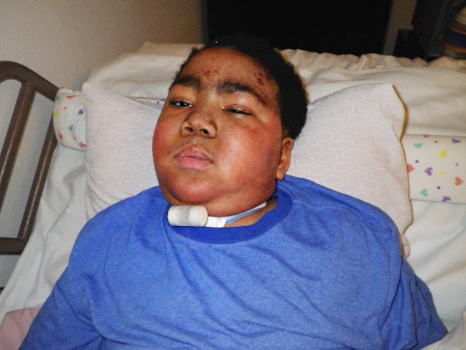 Ahmad