Assisted Children: Individual Stories
After Winning a 4 Year Battle to Leukemia, Child Relapses While Single Mom Faces Crisis

Collection Complete January 2016. Thanks to JJCCF's Financial Assistance and Advocacy Programs this family benefited from having access to basic human needs during a dreadful time.
---
Story:
Adrian, 12 Y/O, Jackson Memorial Hospital
Adrian is a kind boy that suffered in his battle with Leukemia for 4 years and ultimately celebrated his victory just before his 11th birthday in August 2014. Tragically, Adrian learned in July of 2015 that the Leukemia had returned and that he would have to endure another multi-year chemotherapy program and possibly require a bone marrow transplant. Once again, his single mother is unable to work due to Adrian's medical treatment requirements and may even have to relocate to Miami to stay at her son's side. The family is emotionally exhausted and financially desperate for help.
Needs:
Adrian and his family need immediate help to pay for food, gas, and moving expenses to relocate from Palm Beach County to Miami-Dade County (the hospital where Adrian will be receiving extensive treatment with a possible bone marrow transplant, is too far from family's home).
---
Message from Hospital Social Worker, 7/22/15:
Adrian Ruiz is an 11 year old boy who was originally diagnosed with Pre B cell ALL in 2011 in a hospital in Palm Beach and subsequently referred here to Miami for treatment. Shortly after his diagnosis, a referral to the Jessica June Children's Cancer Foundation (JJCCF) was made and your organization, as always, provided the family with much needed financial assistance. Although the treatment for leukemia was quite tough, the patient did remarkably well and last year was told his cancer was in remission and he no longer needed chemo treatments. In August of 2014, Social Security stopped sending the Pediatric SSI disability benefits, considering the patient cured and no longer eligible for this benefit. Unfortunately and, quite sadly, Adrian was informed during an outpatient clinic visit on July 15th of this year that his leukemia had returned in his body and that he would need to begin chemo treatments all over again. Adrian and his family were also advised that he would be a candidate for a bone marrow transplant.
Since your organization's assistance to Adrian and his family, his parents have divorced, leaving Adrian's mother, Blanca Esquivel, as the principal breadwinner for the household. Due to the devastating news of his leukemia relapse, mom has needed to quit her job and is now contemplating moving to Miami from Belle Glades, FL where the family had previously lived. Mom has recently re-applied for the SSI benefit.
I ask that you consider Adrian for enrollment into your Advocacy Program. I trust that someone who may visit your foundation's webpage may find in their hearts the desire to help Adrian's family in any way possible.
I thank you so very much!
Rolando Tabares, LCSW

Click on the PDF icon to view original letter from the Hospital Social Worker
---
Plea from Mother, 7/22/15:
My name is Blanca. I am the mother of Adrian Ruiz. I would like to first of all thank you for your assistance when my son was first diagnosed with ALL in 2011. My son had always been healthy and the news of his leukemia diagnosis totally devastated us. For 4 years, Adrian battled with the cancer and its hard treatments. This battle affected the entire family, including his sister Isamar as well as myself as his mother. In August of 2014 we celebrated his 11th birthday and in July of that same year we had also celebrated the fact that Adrian had won the battle against leukemia.
One year later, July 15th, 2015 we received the devastating news that Adrian's leukemia had returned and that he would have to begin the same battle all over again. His treatments are in Miami and we live in Belle Glade. For the good of my children, Adrian and his younger sister, I have decided that it would be best for us to relocate to Miami. I still do not have a place since we are now in the hospital. I also need to enroll my children in schools in Miami and I expect to have many expenses which I was not planning for at this time. My financial situation is very difficult right now, since I have needed to quit my job to dedicate myself to caring for Adrian. I am a single parent of two children. I ask that you please consider any additional financial assistance, no matter how small it may be, through your Advocacy Program, that you can give me and my family.
I remain very grateful to the foundation for your assistance.
Thank you.
Blanca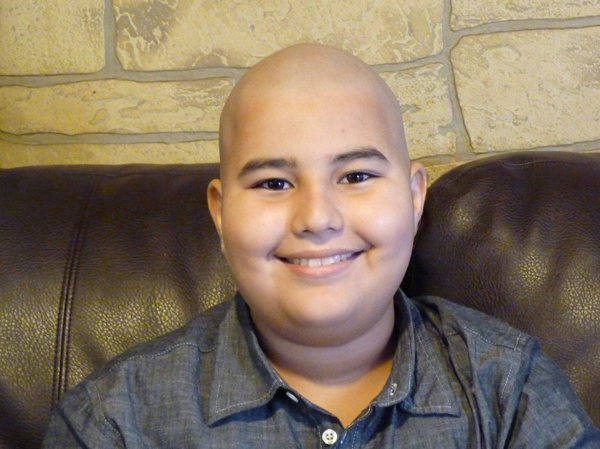 Adrian